Significant progress made in ties with the US: envoy
Friday's telephone call between President Tsai Ing-wen (蔡英文) and US president-elect Donald Trump marked significant progress in Taiwan-US relations, Taiwan's Representative to the US Stanley Kao (高碩泰) said on Saturday.
Kao said at a gathering in New York for US-based Taiwanese groups that Taiwan-US relations have achieved great progress in various areas and that Taiwan's representative office in the US hopes to continue promoting reciprocal ties with Washington on the basis of the US' Taiwan Relations Act, the "six assurances" and mutual trust.
The Taiwanese community in the US also viewed the call positively.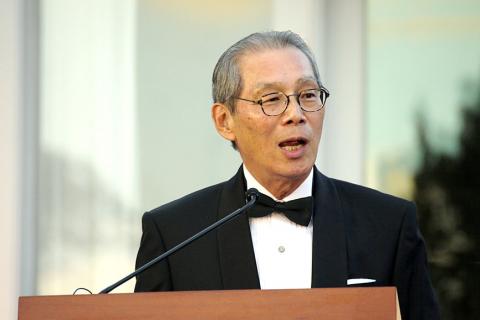 Representative to the US Stanley Kao gives a speech in Washington on Oct. 6.
Photo: CNA
Jerry Shiao (蕭貴源), president of the Chinese Consolidated Benevolent Association of New York, said the conversation shows the importance Trump attaches to Taiwan and Taiwan-US relations, adding that he hopes the US will continue to help Taiwan defend itself and two-way trade between Taiwan and the US will continue to grow.
Lauding Trump as a shrewd businessman, Shiao said that the call would help improve relations on many fronts and promote friendship between both nations.
The US is Taiwan's most powerful ally and the conversation has laid a solid foundation for the development of Taiwan-US relations and bilateral cooperation, he added.
Former minister of foreign affairs Mark Chen (陳唐山) said in Taipei that the call is "a good beginning" for Taiwan's relationship with the Trump administration.
Many in Taiwan had been incorrectly pessimistic about Taiwan-US relations during Trump's term, but those opinions are the result of failing to assess Trump accurately as a politician who acts in ways that breaks with convention, said Chen, who served under former president Chen Shui-bian (陳水扁).
Trump is approaching Taiwan-US ties from the perspective of a businessman, who finds nothing wrong with taking a call from a client of US arms sales, Mark Chen said.
Although heavy opposition to the call is "inevitable," Taiwan should seize this opportunity to convince Trump that he has "made the right choice" and tell him that "Taiwan is distinct from China," Mark Chen said, adding that finding common interests between Taiwan and the US and establishing a friendly pattern of interaction before Trump takes office would be "highly beneficial to Taiwan."
Since Trump favors bilateral trade agreements over multilateral free-trade agreements, Taiwan should emphasize the importance and mutually beneficial nature of the Taiwan-US trade relationship, which could serve as the "first steps to high-level interactions and visits between the two nations," he added.
Legislative Speaker Su Jia-chyuan (蘇嘉全) said that the call demonstrated that Taiwan-US relations are robust and supported by both parties and that he looks forward to the further development of the relationship, adding that friendly interactions with the US improves Taiwan's international visibility and chances of participating in global affairs.
Additional reporting by Chou Ming-hung
Comments will be moderated. Keep comments relevant to the article. Remarks containing abusive and obscene language, personal attacks of any kind or promotion will be removed and the user banned. Final decision will be at the discretion of the Taipei Times.