Singer Kuo Chin-fa dies after collapsing during concert
LEGEND: The singer, who released many albums and also started a rice dumpling business in Kaohsiung, collapsed while singing his signature song, 'Hot Rice Dumpling'
Kuo Chin-fa (郭金發), a famous singer who has been a household name since the 1960s, yesterday collapsed during a performance in Kaohsiung and was later pronounced dead at a hospital.
Made famous by his signature song Hot Rice Dumpling (燒肉粽), Kuo, who sang in Hoklo (also known as Taiwanese), was performing at an event in Weiwuying Township (衛武營) in the city's Fengshan District (鳳山) to mark the Double Ninth Festival, the traditional senior citizens' day which falls on the ninth day of the ninth lunar month.
According to audience members, Kuo performed his first two songs without incident, but as he started singing his third song, Hot Rice Dumpling, the audience noticed something was wrong.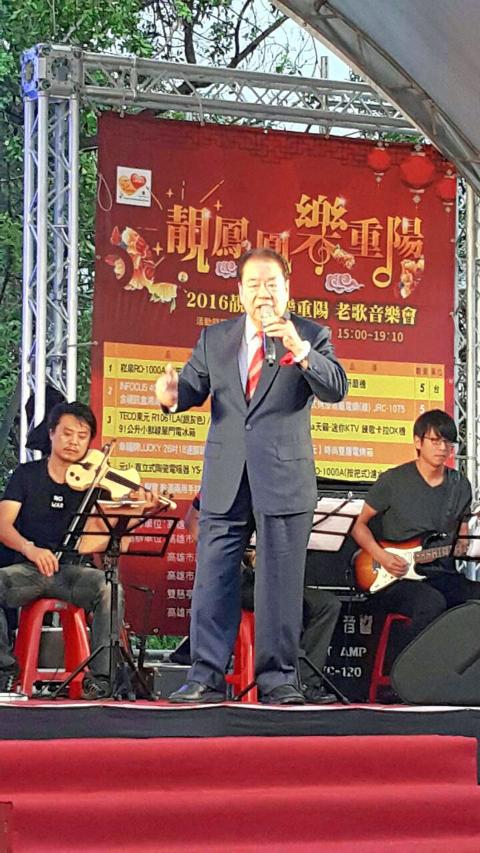 Kuo Chin-fa yesterday performs at an event to mark the Double Ninth Festival in Kaohsiung's Fengshan District. Kuo collapsed moments later and was rushed to a hospital, where he was pronounced dead.
Photo: Copy by Tsai Ching-hua, Taipei Times
"At first we thought that the microphone had gone dead as there was no sound, but then Kuo fell over on the stage," an audience member said, adding that that emergency first aid attempts failed to revive the singer and the district office called an ambulance. Kuo was taken to the Kaohsiung Armed Forces General Hospital.
While the event continued and the audience wished the best for Kuo, the hospital pronounced him dead at 7:19pm.
Born in 1944, Kuo discovered his love of singing when he entered a competition as a 15-year-old. He was introduced to the music industry at 17 by Yeh Chun-lin (葉俊麟), a renowned Taiwanese songwriter.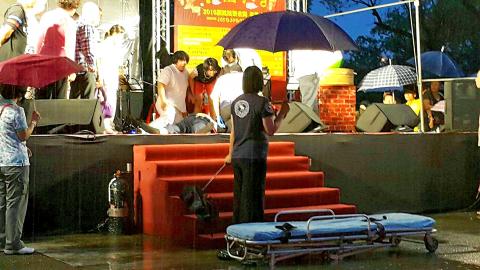 Singer Kuo Chin-fa lies on the stage after collapsing at an event to mark the Double Ninth Festival in Kaohsiung's Fengshan District yesterday. He died hours later.
Photo: Copy by Tsai Ching-hua, Taipei Times
Although he released hundreds of albums, Kuo remains most well-known for Hot Rice Dumpling, as well as his rich baritone voice.
Later in life, Kuo started a rice dumpling business in Kaohsiung, but the restaurant has since closed.
Kuo had expectations for his son, Kuo Chien-meng (郭建盟), to become a politician. Kuo Chien-meng was elected a Kaohsiung city councilor twice as a member of the Taiwan Solidarity Union before becoming a part of Kaohsiung Mayor Chen Chu's (陳菊) team.
In 2010, Kuo Chien-meng was nominated for city councilor by the Democratic Progressive Party and was voted into office. He won a subsequent term in 2014.
Comments will be moderated. Keep comments relevant to the article. Remarks containing abusive and obscene language, personal attacks of any kind or promotion will be removed and the user banned. Final decision will be at the discretion of the Taipei Times.