S Korea, US to deploy missile shield
'DESTABILIZING': Experts said China knows full well that the system was not being deployed against Beijing, but that it felt threatened by the deployment's proximity
South Korea and the US yesterday said they would deploy an advanced missile-defense system in South Korea to counter a threat from North Korea, drawing sharp and swift protest from China.
The Terminal High Altitude Area Defense (THAAD) anti-missile system will be used only as protection against North Korea's growing nuclear and ballistic missile capabilities, the South Korean Ministry of National Defense and the US Department of Defense said in a joint statement.
Beijing said it lodged complaints with the US and South Korean ambassadors over the THAAD decision.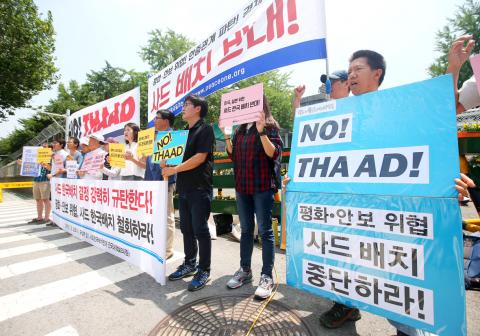 Members of South Korean civic groups shout slogans during a rally against the national defense policy in front of the Ministry of National Defense in Seoul yesterday.
Photo: EPA
China said the system would destabilize the security balance in the region without achieving anything to end the North's nuclear program. China is North Korea's main ally, but opposes its pursuit of nuclear weapons and backed the latest UN sanctions against Pyongyang in March.
"China strongly urges the United States and South Korea to stop the deployment process of the THAAD anti-missile system, not take any steps to complicate the regional situation and do nothing to harm China's strategic security interests," the Chinese Ministry of Foreign Affairs ministry said in a statement.
Selection of a site for the system could come "within weeks" and the allies were working to have it operational by the end of next year, a South Korean defense ministry official said.
The THAAD will be deployed to US Forces Korea, "to protect alliance military forces from North Korea's weapons of mass destruction and ballistic missile threats," the joint statement said.
The US maintains 28,500 troops in South Korea, a legacy of the 1950-1953 Korean War.
"When the THAAD system is deployed to the Korean Peninsula, it will be focused solely on North Korean nuclear and missile threats and would not be directed towards any third-party nations," the statement said.
The decision to deploy the THAAD is the latest move to squeeze the increasingly isolated North, which also includes a series of bilateral sanctions by Seoul and Washington, as well as layers of UN sanctions.
South Korea has been reluctant to discuss the THAAD openly given opposition by China, its main trading partner and an increasingly close diplomatic ally.
South Korean President Park Geun-hye and Chinese President Xi Jinping (習近平) have held seven summit meetings since both took office in 2013.
Russia is also opposed to basing a THAAD system in South Korea.
Its foreign ministry will take the deployment into account in Moscow's military planning, Interfax news agency quoted it as saying yesterday.
China worries the THAAD system's radar will be able to track its own military capabilities.
China "knows full well that the THAAD being deployed to South Korea is not aimed at it at all," said Yoo Dong-ryol, who heads the Korea Institute of Liberal Democracy in Seoul.
"It just doesn't like more American weapons systems being brought in so close to it," he said.
Built by Lockheed Martin Corp, THAAD is designed to defend against short and medium-range ballistic missiles by intercepting them high in the earth's atmosphere, or outside it. The US already has a THAAD system in Guam.
Comments will be moderated. Keep comments relevant to the article. Remarks containing abusive and obscene language, personal attacks of any kind or promotion will be removed and the user banned. Final decision will be at the discretion of the Taipei Times.