Ministry unveils US$6bn warship building plan
AMPHIBIOUS TRANSPORT: Research and development of submarines has been given a NT$30m budget, while NT$60bn has been allocated to building other navy vessels
The Ministry of National Defense yesterday unveiled a 15-year plan to modernize the Republic of China (ROC) Navy, focusing on domestic shipbuilding with a budget of about NT$200 billion (US$6.2 billion), while a research committee is to assess a program to develop a submarine fleet.
Minister of National Defense Feng Shih-kuan (馮世寬) presented the plan alongside top navy officials ,which he said would provide the needed warships and weapons to defend the nation and its maritime territories in a conflict situation and would also spur growth and elevate the nation's technological capacity in defense.
A NT$196 billion budget has been allocated for the domestic shipbuilding program, which is to go toward the construction of 138 warships, missile cruisers, fast-attack boats and other vessels, according to a report submitted by Feng at a meeting of the legislature's Foreign Affairs and National Defense Committee.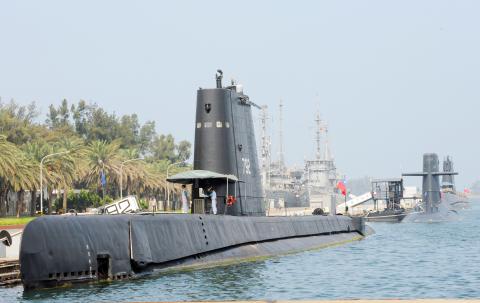 A Guppy-class SS-792 sea Leopard submarine is anchored off Kaohsiung on March 10.
Photo: Chang Chung-i, Taipei Times
According to the report, most of the construction of the 138 vessels has been completed, with many undergoing sea trials and testing of their operations and weaponry systems.
The vessels were contracted to China Shipbuilding Corp (CSBC), Jong Shyn Shipbuilding and Ching Fu Shipbuilding, all based at Kaohsiung Port, along with Lung Teh Shipbuilding, which has its shipyard in Yilan County.
Another NT$60 billion has been allocated to start construction next year of unspecified numbers of amphibious transport vessels, mine-layer boats, mine-hunting ships and Tuo Jiang-class guided missile corvettes, Feng said.
The ministry is also to commission the state-enterprise Ship and Ocean Industries Research and Development Center to undertake research and feasibility studies on developing a national submarine manufacturing program, with a budget of NT$30 million.
Naval officials said that diesel engines and electrical supply systems for submarines would need to be procured from overseas.
Feng also told lawmakers that the military would make every effort to bolster personnel training and improve military discipline.
Feng, said that he has given a directive that the military review its personnel training procedures within 45 days and work to improve them.
Chief of General Staff general Yen De-fa (嚴德發) is to then inspect each military unit, he added.
Additional Reporting by CNA
Comments will be moderated. Keep comments relevant to the article. Remarks containing abusive and obscene language, personal attacks of any kind or promotion will be removed and the user banned. Final decision will be at the discretion of the Taipei Times.