Justice minister explains Cheng's rapid execution
A GOOD TURN? Luo Ying-shay claimed she was doing minister of justice-designate Chiu Tai-shan a favor by carrying out the death penalty so quickly
Minister of Justice Luo Ying-shay (羅瑩雪) yesterday said that she decided to carry out the execution of Cheng Chieh (鄭捷) because the case had unsettled the public and caused much fear regarding safety in public places, that she was just doing her job and that Cheng had brought the death sentence on himself.
Many questions were being raised regarding Luo's role and her decisionmaking after Tuesday night's execution of Cheng, who was convicted of killing four people and injuring 22 in a stabbing spree on a Taipei mass rapid transit system train in May 2014, as she had only two days left in office before the resignation of the Cabinet today ahead of the incoming government taking over on Friday next week.
Luo said her ministry made the decision after receiving the official documents from the Supreme Prosecutors' Office on Tuesday.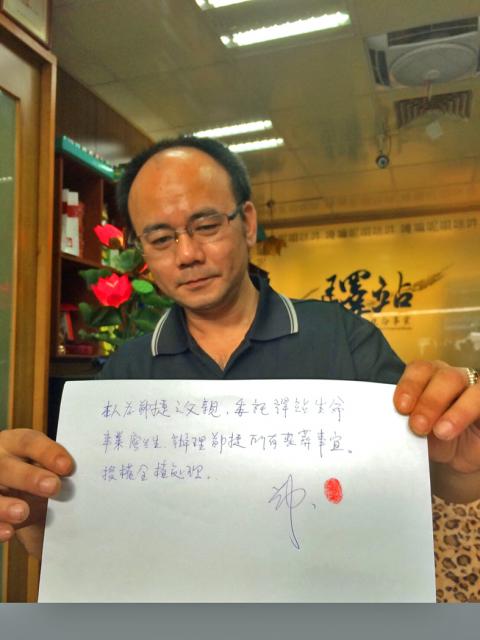 A funeral services operator in Taoyuan yesterday displays a letter written by Taipei MRT murderer Cheng Chieh's father, who asks the operator to handle the cremation of his son's body.
Photo: Lee Jung-ping, Taipei Times
"It was I who decided to carry out the execution of Cheng Chieh ahead of other pending cases. This case damaged our society and made people fear for their personal safety in public places, so it had to be prioritized ahead of other cases. My colleagues in the justice ministry all supported this decision," Luo said.
She said that the evidence was clear to everyone, there was no likelihood of a wrong conviction and the ministry wanted to deter copycat crimes.
"The death sentence was given by Cheng Chieh to himself. His crime was so serious that even those judges who favored abolishing capital punishment supported it. Cheng was given four death sentences, as well as being convicted of other offenses of causing intentional injury. What he did gave the judges no choice but to hand down the death sentences," she said.
Luo also said she was doing Democratic Progressive Party (DPP) minister of justice-designate Chiu Tai-shan (邱太三) a favor by carrying out the execution.
"I know that quite a few DPP officials are in favor of abolishing capital punishment, so Chiu might have had difficulty deciding whether to carry out the order on this case. I took the decision, which is good for everyone concerned, and took the problem off Chiu's hands," Luo said.
Cheng's was the 12th execution order the minister had signed since taking office in September 2013.
Officials also provided more details on the procedures at the Taipei Detention Center on Tuesday, where Cheng was informed of his fate at about 8pm and then was given his last meal, a stewed pork boxed meal with rice and vegetables.
Cheng said he was in fear of feeling pain, so a general anaesthesia was administered to him by medical staff and, after falling unconscious, he was placed face down on a mattress.
The executioner shot him from behind, targeting a marked-out circle indicating his heart.
It took three shots before the coroner verified Cheng's death, officials said.
Huang Chih-hao (黃致豪), one of Cheng's defense lawyers, said that as soon as he heard the announcement on Tuesday, he called the ministry to request a stay of execution, but the official who answered the telephone told him: "We will carry out the law as required."
"I don't know why there was such a rush for the Ministry of Justice to carry out the execution," Huang said.
New Power Party legislators had mixed reactions over the execution.
"The people who have the most authority to comment on [Cheng's] death sentence are those who were injured and their families," NPP Legislator Hung Tzu-yung (洪慈庸) said, adding that the issue she cared most about was how to build a more effective social safety net.
"I feel that the Ministry of Justice should not have been so sudden and arbitrary in carrying out the sentence," NPP Legislator Freddie Lim (林昶佐) said, calling for the establishment of a more transparent, legally defined decisionmaking process.
"While the sentence was carried out much more rapidly than in previous cases, given that it is already completed, I feel the focus of discussion should be placed on how to more effectively prevent crime," NPP Executive Chairman Huang Kuo-chang (黃國昌) said, reiterating that the party has no official position on the death penalty, while members hold differing views on its effectiveness in deterring crime
Comments will be moderated. Keep comments relevant to the article. Remarks containing abusive and obscene language, personal attacks of any kind or promotion will be removed and the user banned. Final decision will be at the discretion of the Taipei Times.