US warship sails by disputed South China Sea reef
FREEDOM OF NAVIGATION: The operation was undertaken to 'challenge excessive maritime claims' by Taiwan, China and Vietnam, the US Department of Defense said
A US Navy warship sailed close to a disputed reef in the South China Sea yesterday, a US Department of Defense official said, prompting anger in Beijing, which denounced the patrol as illegal and a threat to peace and stability.
Guided missile destroyer the USS William P. Lawrence traveled within 12 nautical miles (22.2km) of the Chinese-occupied Fiery Cross Reef (Yongshu Reef, 永暑島) in the Spratly archipelago (Nansha Islands, 南沙群島), Department of Defense spokesman Bill Urban said.
The so-called freedom of navigation operation was undertaken to "challenge excessive maritime claims" by Taiwan, China and Vietnam, which are seeking to restrict navigation rights in the South China Sea, he said.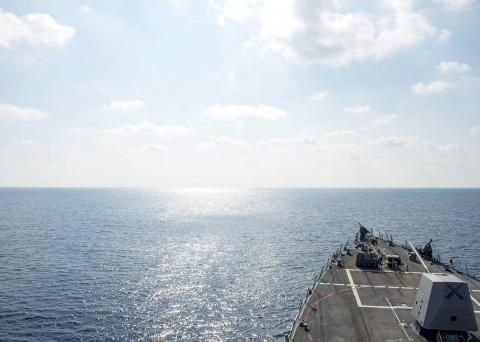 The guided-missile destroyer USS William P. Lawrence conducts a routine patrol in international waters in the South China Sea on Monday last week in the 7th Fleet Area of Operations in support of security and stability in the Indo-Asia-Pacific. The vessel has been reported yesterday
Photo: EPA
"These excessive maritime claims are inconsistent with international law as reflected in the [UN] Law of the Sea Convention in that they purport to restrict the navigation rights that the United States and all states are entitled to exercise," Urban said in an e-mailed statement.
Beijing and Washington have traded accusations that the other is militarizing the South China Sea as China undertakes large-scale land reclamations and construction on disputed features while the US has increased its patrols and exercises in the region.
Facilities on Fiery Cross Reef include a 3km runway and Washington is concerned China plans to use it to press its extensive territorial claims at the expense of weaker rivals.
Chinese Ministry of Foreign Affairs spokesman Lu Kang (陸慷) said the US ship illegally entered Chinese waters and was tracked and warned.
"This action by the US side threatened China's sovereignty and security interests, endangered the staff and facilities on the reef, and damaged regional peace and stability," the spokesman said at a daily news conference.
The Pentagon last month called on China to reaffirm it has no plans to deploy military aircraft in the disputed Spratlys after Beijing used a military plane to evacuate sick workers from Fiery Cross.
"Fiery Cross is sensitive because it is presumed to be the future hub of Chinese military operations in the South China Sea, given its already extensive infrastructure, including its large and deep port and 3,000m runway," said Ian Storey, a South China Sea expert at Singapore's ISEAS Yusof Ishak Institute.
"The timing is interesting, too. It is a show of US determination ahead of [US] President Obama's trip to Vietnam later this month," Storey added.
Speaking in Hanoi, US Assistant Secretary of State for East Asia Daniel Russel said freedom of navigation operations were important for smaller nations.
"If the world's most powerful navy cannot sail where international law permits, then what happens to the ships of navy of smaller countries?" Russel told reporters before news of the operation was made public.
"If our warships can't exercise its legitimate rights under international law at sea, then what about the fishermen, what about the cargo ships? How will they prevent themselves from being blocked by stronger nations?" Russel added.
US naval officials believe China has plans to start reclamation and construction activities on Scarborough Shoal (Huangyan Island, 黃岩島), which is north of the Spratlys within the 200 nautical mile (370km) exclusive economic zone claimed by the Philippines.
The move also comes as tough-talking Davao Mayor Rodrigo Duterte looks set to take the Philippines' presidency. He has proposed multilateral talks on the South China Sea.
Criticism of China over the South China Sea would rebound like a coiled spring, a Chinese diplomat said on Friday last week, as a US warship visited Shanghai against a backdrop of rising tension in the region.
Comments will be moderated. Keep comments relevant to the article. Remarks containing abusive and obscene language, personal attacks of any kind or promotion will be removed and the user banned. Final decision will be at the discretion of the Taipei Times.