AIT announces US attendees to inauguration
UNDERWHELMING: Some Taiwanese Americans were disappointed with the AIT's list, saying the US should have sent higher-ranking officials to boost relations
The American Institute in Taiwan (AIT) on Friday released the names of delegation members who are to represent the US at president-elect Tsai Ing-wen's (蔡英文) inauguration in Taipei on May 20.
Former US trade representative Ron Kirk is to lead the delegation and is to be accompanied by former US deputy secretary of state John Negroponte, AIT Chairman Raymond Burghardt, AIT Director Kin Moy and Stimson Center distinguished fellow Alan Romberg.
Kirk's name as leader of the delegation was leaked to the media a few days ago.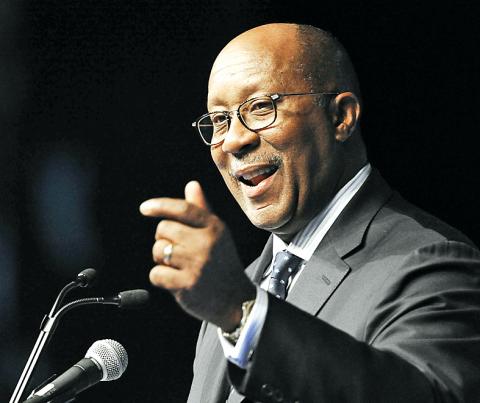 Former US trade representative Ron Kirk speaks at the state Democratic convention in Houston, Texas, on June 8, 2012.
Photo: AP
Some Taiwanese Americans were disappointed with the list of names.
They said this would have been a perfect opportunity for US President Barack Obama to boost relations with the nation by sending higher-ranking officials.
Former Pentagon official and China expert Joseph Bosco last month published an article in The Diplomat saying that Obama should end the longstanding policy of "excessive" restraint in the face of Chinese provocation by sending US Vice President Joe Biden to Tsai's inauguration.
He said that sending Biden to Taipei would send a "useful message" to Beijing.
There had also been speculation within the Taiwanese American community that a senior senator might attend the inauguration as a signal of strong US support for Taiwan.
An official with one leading Taiwanese American group told the Taipei Times that members were "disappointed" with the delegation as announced by the AIT in Washington.
"Sending a big name would show Beijing and Taiwan's other neighbors that the US highly values Taiwan's democracy," the official said. "We certainly don't want to show disrespect to Ron Kirk, but we were hoping for someone with political clout."
Kirk served as US trade representative from March 2009 to March 2013. He served as mayor of Dallas, Texas, from 1995 to 2002 and as Texas secretary of state from 1994 to 1995.
Negroponte is vice chairman of McLarty Associates, a leading international strategic advisory firm. He served as US deputy secretary of state from 2007 to 2009 and later as director of national intelligence.
US House Foreign Affairs subcommittee on Asia and the Pacific Chairman Matt Salmon has also announced that he will attend the inauguration.
Comments will be moderated. Keep comments relevant to the article. Remarks containing abusive and obscene language, personal attacks of any kind or promotion will be removed and the user banned. Final decision will be at the discretion of the Taipei Times.