Court finds Lee guilty of buying votes in Tainan
The Tainan District Court yesterday found Tainan City Council Speaker Lee Chuan-chiao (李全教) guilty of vote-buying, handing down a four-year prison term and a five-year deprivation of civic rights.
As a result of the ruling, Lee will be suspended from his position as speaker with immediate effect in accordance with the Civil Servants Election and Recall Act (公職人員選舉罷免法).
Lee said he would appeal.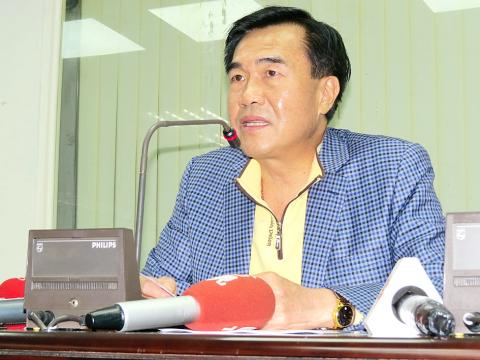 Tainan City Council Speaker Lee Chuan-chiao speaks in Tainan yesterday.
Photo: Tsai Wen-chu, Taipei Times
Lee, a member of the Chinese Nationalist Party (KMT), was accused of buying votes from fellow councilors in the city speakership election on Dec. 25, 2014, with cash paid via go-betweens.
Seven others were also charged in the case, three of whom were found guilty in yesterday's ruling.
In January, the court found Lee guilty of vote-buying during his campaign for city councilor in November 2014.
Lee is appealing that decision.
After yesterday's ruling, Deputy Speaker Kuo Hsin-liang (郭信良) of the Democratic Progressive Party (DPP) is to be the acting speaker for the city council.
Meanwhile, Tainan Mayor William Lai (賴清德), who boycotted city council meetings for months in protest against Lee's election as speaker, yesterday said justice had been introduced into local politics.
Lai and the DPP's other city councilors affirmed the judge's ruling, saying it represented the first step in successful reforms.
Lai said his decision to boycott council meetings until a ruling had been passed on the case was motivated by his desire to see the beginnings of local political reform, adding that he wish to thank those who supported his decision.
Meanwhile, KMT Culture and Communications Committee deputy director-general Wang Hung-wei (王鴻薇) said the party is in the process of suspending any party powers Lee was entitled to as a KMT member in accordance with internal regulations.
According to KMT internal regulations, members are to have their party rights suspended if they are found guilty of bribery or other violations under the act in a first court ruling, while their party membership is to be revoked if a guilty verdict is upheld in a second ruling.
Additional reporting by Shih Hsiao-kuang
Comments will be moderated. Keep comments relevant to the article. Remarks containing abusive and obscene language, personal attacks of any kind or promotion will be removed and the user banned. Final decision will be at the discretion of the Taipei Times.