Tsai mulling wealth fund
The incoming administration is moving to establish a new quasi-sovereign wealth fund with local and overseas cash to finance emerging industries, a top adviser to president-elect Tsai Ing-wen (蔡英文) said yesterday.
According to a plan she is considering, the government would be the largest shareholder in the fund, with ownership at less than 50 percent, while the rest would be comprised of local and foreign investors, said Kung Ming-hsin (龔明鑫), Tsai's top adviser on industry policy.
The fund would help nurture the development of key industries such as biotechnology and smart machinery, Kung said.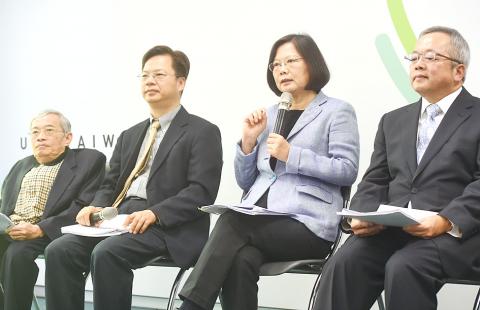 President-elect Tsai Ing-wen, second right, and Tsai's top adviser on industry policy Kung Ming-hsin, second left, attend a news conference on the biotechnology industry on Oct. 27 last year.
Photo: Chien Jung-fong, Taipei Times
"There is a lot of money in Taiwan, but people are just collecting fixed-interest payments," said Kung, who is also vice president of the Taiwan Institute of Economic Research (台灣經濟研究院).
"An innovative financing mechanism can make full use of the local excess savings," he said.
Tsai, who is to take office on May 20 after winning in a landslide in January's election, campaigned on fostering new industries as economic growth slumps from a global trade slowdown.
The nation is facing increasing pressure to find new engines for growth as Chinese firms become more competitive and demand weakens in the electronics sector, its key export.
The new leadership hopes to keep central government deficit at less than 3 percent of GDP, so it needs to find more innovative ways to fund new industries beyond selling debt, Kung said.
The proposed fund's investments would focus on five areas highlighted by Tsai's campaign: "green" energy, biotechnology, national defense, Internet of Things and smart machinery.
While the fund might also acquire fledgling businesses, unlike Singaporean sovereign wealth fund Temasek Holdings Pte, it would not buy large companies.
Kung declined to comment on the size of the fund.
The new company might hire foreign managers, Kung added.
The Cabinet-level National Development Council said in July last year that it would consider forming a sovereign wealth fund, but added that it does not have to include foreign-exchange reserves.
Council Deputy Minister Huan Lin (林桓) this week said exploratory research conducted by the current administration would be passed to Tsai's government if need be.
The nation's economy grew 0.75 percent last year, the least since 2009, as exports shrank over the past 12 months.
Local technology firms have declined as demand for PC hardware fell, while those in other nations moved into Internet services.
The five worst performers in Morgan Stanley's 106-member Asia-Pacific Infotech Index last year came from Taiwan.
Comments will be moderated. Keep comments relevant to the article. Remarks containing abusive and obscene language, personal attacks of any kind or promotion will be removed and the user banned. Final decision will be at the discretion of the Taipei Times.