MOFA vows to defend fishing rights
The Ministry of Foreign Affairs (MOFA) yesterday pledged to safeguard Taiwanese fishermen's interests at an upcoming meeting with Japan, amid demands by Japanese fishery associations that the boundaries set by a historic agreement between the two nations be narrowed.
"Regarding Okinawa fishery associations' demands that Japanese authorities re-examine the areas in which the 2013 Taiwan-Japan fishery agreement are applicable, the Japanese government has yet to include the issue on the agenda of the fifth meeting of the Taiwan-Japan fishing commission from March 2 to March 4 in Taipei," ministry spokesperson Eleanor Wang (王珮玲) said.
Wang said that if Japan brings up the issue during the meeting, Taiwan's representatives would argue strongly for the nation's interests and ask their Japanese counterparts to consider the achievements that have been made since the agreement's signing.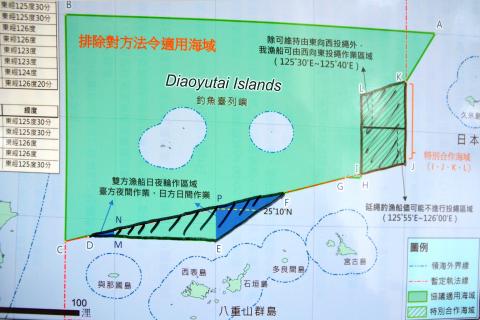 Two areas in disputed waters near the Diaoyutai Islands which Japanese fishery associations are asking the Japanese government to reclaim are highlighted in this chart displayed on Wednesday in Yilan County.
Photo: Chu Tse-wei, Taipei Times
"At the moment, such demands are made only by local fishery groups in Japan and do not reflect the nation's official stance," Wang said, urging concerned parties to handle the matter in a rational manner.
Wang made the remarks one day after representatives of the Yilan-based Suao Fishermen's Association and other fishery groups urged the government to stand up for their rights during the meeting, or they would mobilize fishermen to surround the disputed Diaoyutai Islands (釣魚台) as a form of protest.
The Taiwan-Japan fishing commission was established after the two nations in April 2013 signed a pact on fishing rights in the East China Sea near the Diaoyutais, which Japan calls the Senkaku Islands.
Under the terms of the agreement, Taiwanese and Japanese boats can operate freely in a 74,300km2 area around the archipelago.
An amendment to the pact was passed last year, allowing Taiwanese and Japanese fishing boats to take turns operating in the area north of the Yaeyama Islands and maintain a 4 nautical mile (7.4km) distance between each boat while fishing.
Wang said the agreement has established an institutionalized negotiation mechanism between Taipei and Tokyo, allowing both sides to jointly explore fishery resources and their fishermen to operate in peace.
"It is a concrete embodiment of [President Ma Ying-jeou's (馬英九)] East China Sea peace initiative and has set a successful precedent for peaceful resolution of conflicts," Wang said.
Comments will be moderated. Keep comments relevant to the article. Remarks containing abusive and obscene language, personal attacks of any kind or promotion will be removed and the user banned. Final decision will be at the discretion of the Taipei Times.