US committed to support for Taiwan: US deputy secretary
A senior member of US President Barack Obama's administration on Tuesday reiterated US support for Taiwan, with Washington expected to announce a new arms sales package for Taiwan next week.
"Our strong commitment to the Taiwan Relations Act [TRA] is evidenced by our actions, including sales of defense articles and services," US Deputy Assistant Secretary of Defense for East Asia Abraham Denmark said in a keynote speech at an Asia-Pacific security conference at the Heritage Foundation in Washington.
The package is unlikely to contain any surprises and will almost certainly not include help with Taiwan's indigenous submarine program or F-16 fighters.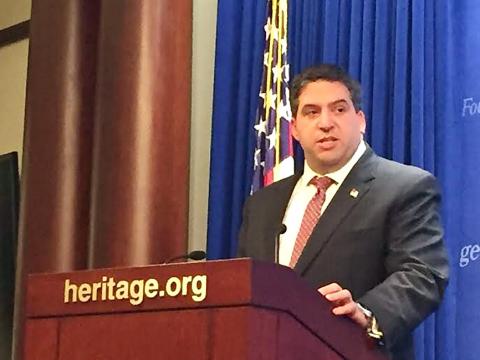 US Deputy Assistant Secretary of Defense for East Asia Abraham Denmark delivers a keynote speech at an Asia-Pacific security conference at the Heritage Foundation in Washington on Tuesday.
Photo: Nadia Tsao, Taipei Times
Nevertheless, the grab bag of lesser military items in the package — promised to Taipei over the past four years — is still likely to anger China, and Denmark's address was a signal to Beijing that it was on the way.
Cross-strait relations are "critical" to rules based order, and to protecting peace and prosperity in the region, Denmark said, adding that the US had not been distracted by China's rising global influence or by tensions elsewhere.
China's rapid militarization has continued with a large number of forces collected across Taiwan, he said.
"The first paragraph of the executive summary of the Department [of Defense]'s annual report to Congress makes it clear that China is preparing for a potential conflict in the Taiwan Strait," Denmark said.
He reminded his audience that US President Barack Obama and National Security Advisor Susan Rice in September publicly reaffirmed that the US government remained firmly committed to the "one China" policy based on the three communiques and the TRA.
"Our policy approach to cross-strait issues is based on enduring national interests," and that policy transcends political parties and had centered the US approach to Asia, he said.
"Our collective sales of over US$12 billion in arms to Taiwan are an important indication of the Obama administration's commitment to our obligations under the TRA," he said.
"The US' obligation does not begin and end with arms sales to Taiwan," he added.
"Our overall defense cooperation is more consequential. Those who only focus on the sales aspect of our defense relationship do a disservice both to US interests and Taiwan security," he said.
He emphasized the "depth and strength" of unofficial ties between the two countries.
"As part of our broad defense and security assistance agenda, we are constantly engaged with Taiwan in evaluating, assessing and reviewing its defense needs," he said.
The common objective is a "credible deterrent" against potential coercion and aggression against Taiwan, he added.
The Asia-Pacific has increasingly become the world's political and economic center of gravity and what happens in the region affects everyone, he said.
"The US commitment to the Asia Pacific should not be underestimated, and to do so would be a severe miscalculation," he said.
As a Pacific power, the US has fundamental economic and security interests in Asia, and will continue to actively engage with key partners to pursue those interests as the region evolves and develops, he said.
"Our priority is to strengthen cooperation among our partners in the region, leveraging their significant and growing capabilities to build a network of like-minded states that sustain and strengthen a rules-based regional order and addresses regional and global challenges," he said.
The US is strengthening its treaty alliances with Australia, Japan, South Korea and the Philippines, while also strengthening its support for Taiwan, he said.
"Defense diplomacy plays a role in deepening these relationships," he said.
The US welcomes the rise of China and wants it to be peaceful, stable, prosperous and responsible, he said.
Unfortunately, there are areas in which China's conduct has contributed to tensions in the Asia-Pacific region, preventing its relationship with the US from reaching its full potential, he said, adding that the international community was closely watching China's actions particularly in air, cyber and maritime affairs.
"The ongoing rebalance will continue to support our allies and partners in their efforts to maintain freedom of action and will allow the US to more effectively uphold key international laws and standards in the face of potential restriction and collusion," he said.
Denmark said that there was no question over whether the US would maintain its decisive military edge and take actions to preserve deterrence for the long term.
"We face many challenges in the region and maritime security is just one aspect of the complex relationship with China," he said.
Despite these challenges, he said that he continued to be encouraged by the "robust and effective relationships that we are building with our allies and partners and the commitment that they have demonstrated to an open, stable and prosperous region."
Comments will be moderated. Keep comments relevant to the article. Remarks containing abusive and obscene language, personal attacks of any kind or promotion will be removed and the user banned. Final decision will be at the discretion of the Taipei Times.