DPP's Tsai picks Chen Chien-jen
RUNNING MATE: A devout Catholic, the public health researcher cited Pope Francis' advice that 'real power is service' as influencing his decision to accept Tsai's offer
Democratic Progressive Party (DPP) presidential candidate Tsai Ing-wen (蔡英文) yesterday announced that she had picked former Academia Sinica vice president Chen Chien-jen (陳建仁) to be her running mate in January's presidential election.
"A few months ago, Chen joined a meeting of our think tank, during which I thanked him for helping out and told him I might need his assistance in the future. He was unaware of my hidden message then, but his name was put on a not-so-long list in my pocket," Tsai told a news conference at the DPP headquarters in Taipei. "And today, I am here to welcome him to become my running mate and a member of my team."
Tsai said that like most Taiwanese, she was most impressed by Chen's willingness to take up a challenging mission, as well as his steady and calm leadership, during the SARS outbreak in 2003.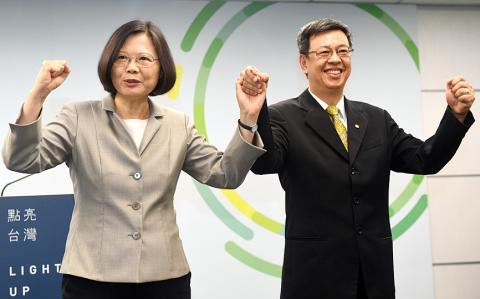 Democratic Progressive Party presidential candidate Tsai Ing-wen, left, yesterday joins hands with Chen Chien-jen in Taipei after she announced that she had chosen the academic and researcher as her running mate.
Photo: Chien Jung-fong, Taipei Times
Describing Chen as a devout Catholic who is prudent, extroverted, trustworthy and an expert communicator, Tsai said many political analysts have praised him as conducive to her campaign.
"However, that is not the point. The point is that I genuinely believe Chen will be a beneficial choice to the nation as a whole," she said.
In a speech filled with religious reflections, Chen said that when Tsai approached him about serving as her running mate, he was reluctant to give up his academic research and studies, which have been his lifelong pursuit.
"My wife and daughter then prayed for me. They felt God's calling that I must become the light of the world and the salt of the earth, burning myself like a small candle to give light to Taiwan or making myself like a pinch of salt to add flavors to people's lives," Chen said.
Quoting Pope Francis, Chen said real power is service and that a good shepherd wears the smell of his flock, adding that the pontiff also encourages Catholics to enter politics so that they can bring change and attend to the needs of the impoverished and the disadvantaged.
"While [former Academia Sinica] president Lee Yuan-tseh (李遠哲) is reluctant to see me embroiled in the whirlpool of political struggle ... he is convinced that Tsai's campaign policies are the most practical, feasible and favorable to Taiwan's future," Chen said.
Asked whether he now plans to join the DPP, Chen said he has yet to consider it, but he has cooperated with Tsai's team for a long time.
Academia Sinica issued a statement earlier in the day announcing Chen's resignation. It voiced regret at losing him, but extended its best wishes.
Born in 1951, Chen holds a doctoral degree in epidemiology and human genetics from Johns Hopkins University in Baltimore, Maryland.
He earned a bachelor's degree in animal science and a master's in public health from National Taiwan University. He began conducting research on hepatitis B when he was a teaching assistant at the Taipei school and later became a key proponent of across-the-board vaccination against hepatitis B, which is endemic in Taiwan.
The 64-year-old is also an expert on arsenic poisoning.
Since the late 1950s, a mysterious illness dubbed "blackfoot disease" has afflicted people in many areas along Taiwan's southwestern coast. Chen and his research team discovered a link between the consumption of water with high levels of arsenic and increased risks of cancer and hardening of the arteries.
They also found that people drinking arsenic-laced water from deep wells suffered a higher death rate from bladder, lung, liver, kidney and skin cancers than those consuming water from shallow wells.
Chen played a leadership role in the Department of Health during the SARS outbreak, which killed 73 people and afflicted 346 nationwide.
He later worked to help establish a national infectious disease monitoring system and amend the Communicable Disease Control Act (傳染病防治法) to improve the nation's epidemic prevention and control capabilities.
Comments will be moderated. Keep comments relevant to the article. Remarks containing abusive and obscene language, personal attacks of any kind or promotion will be removed and the user banned. Final decision will be at the discretion of the Taipei Times.