Economy posts first fall in six years
IN A SLUMP: Following last quarter's steeper-than-expected drop of 1.01%, the government will have to revise down its current full-year forecast of 1.56%
The economy contracted for the first time in six years last quarter, falling 1.01 percent from the same period last year, as exports faltered due to a global slowdown and private consumption failed to lend support, the Directorate-General of Budget, Accounting and Statistics (DGBAS) said yesterday.
Despite the sharper-than-consensus-estimated decline of 0.5 percent, the nation narrowly dodged a recession — defined as two consecutive quarters of negative growth.
On a seasonally adjusted annual basis, the economy grew 0.21 percent last quarter, recovering from a 6.56 percent fall in the preceding quarter, DGBAS data showed.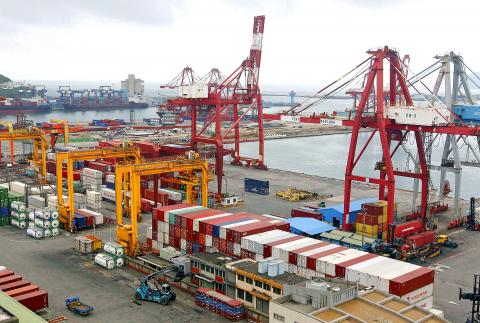 Containers are loaded and unloaded at Keelung Port yesterday.
Photo: Pichi Chuang, Reuters
"The economy panned out weaker than expected as both external demand and private consumption stalled," DGBAS section chief Wang Shu-chuan (王淑娟) told a media briefing.
In August, the statistics agency forecast growth of 0.1 percent year-on-year for the third quarter.
The government will have to revise down its full-year GDP growth forecast, which the agency projected would expand 1.56 percent, Wang said.
The DGBAS is to update its GDP figures next month.
The weak GDP data dampened investor confidence, leading the TAIEX to close 0.2 percent lower at 8,554.31 points.
Exports, which drive 70 percent of the economy, declined 2.85 percent year-on-year last quarter, dragging down GDP by 2 percentage points, the DGBAS report showed.
Domestic demand failed to make up for disappointing exports, rising a mere 0.11 percent as retail sales dropped 1.93 percent from the previous year, also the first contraction since the third quarter of 2009, the report said.
Visitors to major tourist attractions dropped 8.99 percent year-on-year in July and August, and new car licenses shrank 7.88 percent last quarter, it said.
Capital formation — net additions of equipment, buildings and other intermediate goods — declined 1.25 percent last quarter from the previous year, as manufacturers cut inventories and real-estate companies shied away from new construction projects, the report said.
In terms of production, the manufacturing industry fell 3.1 percent last quarter, while the construction industry slumped 6.54 percent, the report said.
The financial and insurance sectors also experienced a soft patch, shrinking 0.51 percent from the same period last year.
Economists yesterday said the nation would remain sensitive to economic dynamics in China and the US.
Australia and New Zealand Banking Group (ANZ) expects Taiwan to benefit from increasing Chinese domestic demand and innovations originating in the US would serve as a catalyst for the local semiconductor industry, ANZ Hong Kong-based economist Raymond Yeung (楊宇霆) said.
Tony Phoo, (符銘財), Taipei-based economist at Standard Chartered Bank, said the local job market remained stable last quarter, despite weak exports, which should provide support for domestic demand.
Comments will be moderated. Keep comments relevant to the article. Remarks containing abusive and obscene language, personal attacks of any kind or promotion will be removed and the user banned. Final decision will be at the discretion of the Taipei Times.