China left fuming over US sail-by in disputed waters in South China Sea
Chinese media yesterday denounced the US after Washington sent a warship into disputed South China Sea waters and vowed to do so again, while netizens filled the Internet with angry diatribes, demanding a far stronger reaction from Beijing.
The disputed waters have become the stage for a burgeoning tussle between the world's two largest economic and military powers as they struggle for regional dominance.
In the latest act, the US sent guided-missile destroyer the USS Lassen within 12 nautical miles (22.2km) of small artificial islands in the South China Sea that Beijing recently built reefs on, despite competing claims from its neighbors, including Taiwan, Malaysia, Vietnam, Brunei and the Philippines.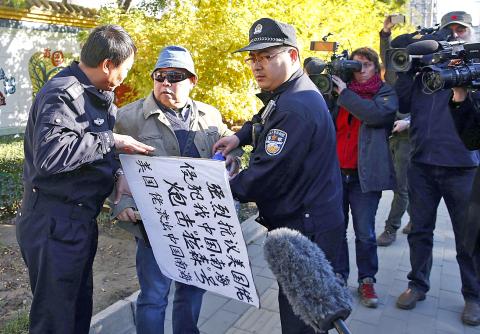 A protester, second left, holding a sign that reads 'Strongly protest against US encroachment on South China Sea. Attack USS Lassen. Americans get off South China Sea', is confronted by two Chinese police after trying to protest against the United States outside the US Embassy in Beijing yesterday.
Photo: EPA
The US Navy is to send more warships, a US official said on Tuesday.
"We will do it again. We sail in international waters at a time and place of our choosing," he said.
In the run-up to Tuesday's operation, Beijing repeatedly warned that it would take firm action against any nation that violated its territorial sovereignty.
However, when the long-awaited patrol finally arrived, Beijing only tracked and warned away the vessel, without intervening physically.
Falling back on a tried-and-tested formula, it summoned the US ambassador to protest, denounced Washington's actions and made vague threats that it would "resolutely respond."
Commentary in Chinese state media was relatively restrained, calling for China to keep a cool head in the face of US provocations.
Even the Global Times, known for its nationalistic rhetoric, issued a call for restraint, emphasizing the need for China to show moral superiority in the face of what it described as Washington's bullying.
"The Pentagon is obviously provoking China," it said in an editorial published yesterday.
"If we feel disgraced and utter some furious words, it would only make the US achieve its goal of irritating us," it added.
However, Chinese netizens demanded a stronger response from the authorities, which portray themselves as a major global power and have at their command the world's largest military, an increasing point of pride.
Beijing has been ramping up defense spending for years as it works to transform its once corrupt and dysfunctional military into a well-oiled machine with an increasingly powerful navy capable of operating far into the Pacific region.
The US "[is] at our doorstep. Denouncing them again is useless," one commentator said, reflecting the general mood of thousands of responses on social media site Sina Weibo.
Last month's military parade in Beijing, celebrating the 70th anniversary of the end of World War II, featured a procession of military hardware, including missiles thought to be capable of targeting US warships.
Such displays have heightened popular Chinese expectations, and social media sites were filled with demands for decisive action.
"Can China only flap its lips?" one netizen said, adding: "Destroy the American warships that came."
Comments will be moderated. Keep comments relevant to the article. Remarks containing abusive and obscene language, personal attacks of any kind or promotion will be removed and the user banned. Final decision will be at the discretion of the Taipei Times.