DPP calls for KMT clarity on its cross-strait policy
SAME, BUT DIFFERENT: The DPP called on Hung Hsiu-chu to explain her policy of 'one China, same interpretation,' asking if she is pushing for unification with China
The Democratic Progressive Party (DPP) yesterday urged Chinese Nationalist Party (KMT) Chairman Eric Chu (朱立倫) to clarify the KMT's stance on cross-strait relations, as KMT presidential hopeful Hung Hsiu-chu (洪秀柱) has criticized President Ma Ying-jeou's (馬英九) cross-strait policy and appears to be heading in a pro-unification direction.
"Hung seems to be taking a very different view on cross-strait policies from those of Ma and Chu, and actually Taiwanese are still struggling to understand how she actually thinks," DPP spokesperson Wang Min-sheng (王閔生) told a news conference at the party's headquarters in Taipei. "[Cross-strait policy] is a very serious issue and therefore Hung and the KMT are obliged to explain it clearly to the public."
The deputy legislative speaker has criticized Ma's "one China with different interpretations" and "no unification, no independence, no use of force" as his main principles in cross-strait relations, saying that such ideas would eventually lead to Taiwanese independence, so she said that the two sides should agree to "one China, same interpretation."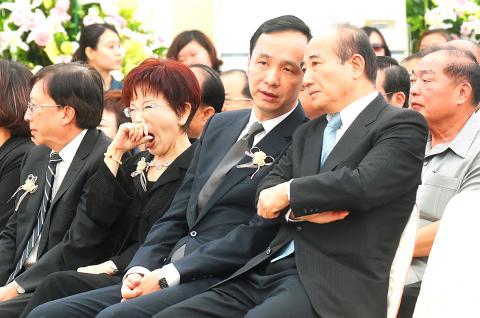 Chinese Nationalist Party (KMT) presidential hopeful Hung Hsiu-chu, second left, is caught yawning yesterday, while attending a public memorial service in Taichung with KMT Chairman Eric Chu, center, and Legislative Speaker Wang Jin-pyng, right.
Photo: Liao Yao-tung, Taipei Times
"Hung did not explain what 'same interpretation' means, or clearly what she meant by 'one China,'" Wang said.
He said that while Hung last month said that Taiwan and China are two Chinese governments under "one China," on Monday she said in an interview that her idea of "one China" is asking the People's Republic of China to recognize the existence of the Republic of China.
"As a presidential hopeful, Hung should make herself clear about the issue to the people," Wang said.
As next month's KMT national congress is set to pass a new political agenda, Wang questioned whether Ma's "one China with different interpretations," Chu's "both sides belong to 'one China'" or Hung's proposal of signing a cross-strait peace agreement under "one China, same interpretation" would be written into it.
"Is the KMT going to be switching to the direction of pushing for accelerating cross-strait unification? This is a question that Chu should answer," Wang said.
Comments will be moderated. Keep comments relevant to the article. Remarks containing abusive and obscene language, personal attacks of any kind or promotion will be removed and the user banned. Final decision will be at the discretion of the Taipei Times.