Students rally as ministry axes reviews
SUNFLOWER REDUX: Sources said the government is concerned student discontent could lead to protests on a scale similar to those held by the Sunflower movement
Students yesterday protested in Taipei and Tainan against the unexpected cancelation by the Ministry of Education of three hearings scheduled for this weekend that would have reviewed the curriculum guidelines for high-school textbooks.
Holding two large banners that read "anti-brainwashing" and "oppose the adjustments made to the curriculum guidelines," as well as various smaller placards expressing their dissatisfaction, dozens of students, some wearing their school uniforms, called for Minister of Education Wu Se-hwa (吳思華) to listen to their demands outside the ministry yesterday afternoon.
In Tainan, students from Tainan First High School (TFHS), National Tainan Girls' Senior High School and Kuang Hua High School yesterday morning protested at the TFHS entrance, where a hearing was supposed to take place.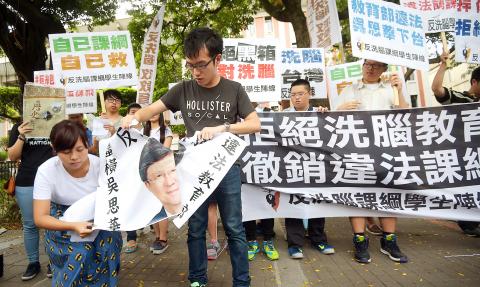 Students yesterday tear up a picture of Minister of Education Wu Se-hwa during a protest against proposed new high-school curriculum guidelines outside the Ministry of Education in Taipei.
Photo: Wang Min-wei, Taipei Times
In a video clip on the Chinese-language Apple Daily's Web site, students were heard saying "[you are] lying, lying" in response to a school staffer telling reporters that the school was unable to host the hearing because it was understaffed due to a high-school entrance exam.
At 8:30pm on Friday night, the ministry announced the postponement of the TFHS hearing, as well as the others at the Affiliated Senior High School of National Taiwan Normal University (HSNU) in Taipei yesterday and at National Hsinchu Senior High School in Hsinchu City today.
Wu is scheduled to appear on the Executive Yuan's "open microphone" YouTube broadcast at 7pm tomorrow to explain the guideline adjustments, the ministry said.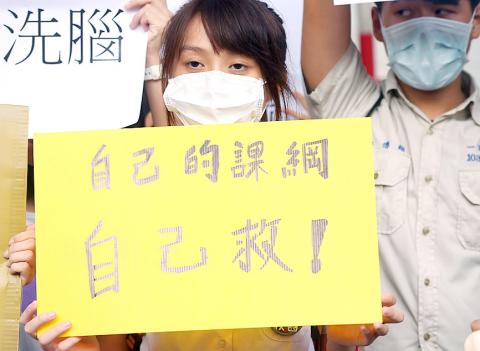 A student holds a sign that reads: "We have to save our curriculum by ourselves," during a protest against the planned new high-school curriculum outside the Ministry of Education in Taipei yesterday.
Photo: Wang Min-wei, Taipei Times
As the hearings that were to be held to dispel doubts over what critics have called "China-centric" guidelines "have gone amiss," the government has decided to proceed with the implementation of the guidelines in August without the hearings, sources said.
The first hearing, held at National Taichung First Senior High School on Tuesday last week, apparently fueled student furor over the changes, the source said.
Concerns have been raised within government circles that high-school students could react angrily if the hearings fail to address their issues regarding the amendments, triggering a civic movement similar to the student-led Sunflower movement last year against a cross-strait service trade agreement, the sources said.
Speaking to reporters on Friday night, Wu apologized to students, teachers and parents who had signed up for the three cancelled hearings, adding that he would answer their questions during the "open mic" session.
"I thought it was a satirical piece when I first heard that today's hearing was canceled in a news broadcast," HSNU student Chung Hsin-ting (鍾欣庭) said yesterday. "This is ridiculous. Is the ministry deliberately trying to infuriate students?"
Taipei Municipal Jianguo High School student Ho Wei-tzu (何蔚慈) said he knew students in Yilan County and Taoyuan who had made time in their schedules to attend the Taipei hearing.
"There was no reason for the meetings to be canceled," Ho said.
"We were disappointed, because many of us have been studying the guideline changes so that we could discuss them with the minister," an anti-curriculum amendment alliance member said.
The decision to hold the four hearings was announced by the ministry on June 5.
Additional reporting by Shih Hsiu-chuan and Liang Pei-chi and Hung Mei-hsiu
Comments will be moderated. Keep comments relevant to the article. Remarks containing abusive and obscene language, personal attacks of any kind or promotion will be removed and the user banned. Final decision will be at the discretion of the Taipei Times.