Tsai clarifies China policy in 'Wall Street Journal'
Democratic Progressive Party (DPP) Chairperson Tsai Ing-wen (蔡英文) on Monday said that her "core goal" for the nation was "a more consistent and sustainable relationship with China."
Tsai made the statement in a bylined commentary published by the Wall Street Journal as she flew into Washington for a key five-day visit to the US capital.
Tsai called for "open channels of communication, both with China's leadership and the Taiwanese people."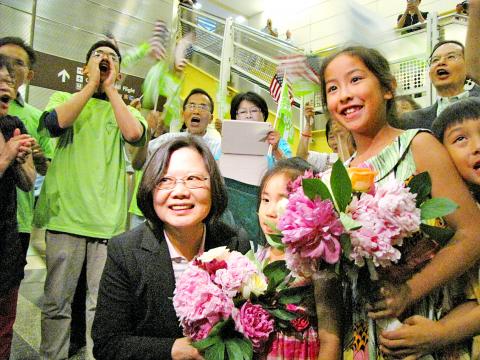 Democratic Progressive Party Chairperson Tsai Ing-wen meets a crowd of supporters yesterday in Washington.
Photo: Tsao Yu-fen, Taipei Times
She faces a whirlwind of meetings with officials in US President Barack Obama's administration, US Congress and the US Department of State, as well as think tanks and Taiwanese-American organizations.
It will be her main opportunity to convince Washington that if she wins next year's presidential election, she will follow policies that will maintain peace and stability across the Taiwan Strait.
Tsai is in the US for a total of 12 days and has already visited Los Angeles and Chicago.
Tsai's Wall Street Journal article laid out the platform she is presenting in Washington.
"My priority will be to implement a transparent process to enhance trust and cooperation across the Taiwan Strait," she wrote.
"Through principled engagements, joint initiatives and dialogue, I will ensure that the spirit of cooperation that has guided the betterment of China-Taiwan relations continues," Tsai wrote.
She wrote that 36 years ago, the US Congress enacted the Taiwan Relations Act (TRA) and launched a "historic friendship."
"I have no doubt that our mutual interests in the region's peace and prosperity will further strengthen these bonds and ensure that they will endure for many decades to come," Tsai wrote.
While the US is Taiwan's most important strategic partner, she said that the nation must also expand its contributions toward a more promising future for the region.
Tsai wrote that Taiwan needs to articulate an open and forward-looking strategy for the future that is "fundamentally premised" on robust economic, defense and people-to-people relationships with the US in parallel with a comprehensive and principled engagement with China.
Tsai outlined a four-pronged foreign policy based on multifaceted cooperation with the US, identifying and participating in international projects, protecting Taiwan's economic autonomy through trade diversification and enhancing principled cooperation with China.
"The net impact of this strategy will not only depend on the successful execution of each pillar, but on how we are able to draw linkages between the four elements and put forth a comprehensive paradigm for Taiwan's international role," she wrote.
Tsai wrote that she was committed to enhancing cooperation with the US on joint military training, exercises and defense-industrial cooperation.
"In addition to strengthening our already extensive ties in these traditional security areas, it is equally important for Taiwan to support the region's capabilities to address nontraditional security threats, highlighted by the growing challenges presented by climate change and the increasing frequency of natural disasters across the Asia-Pacific," she wrote. "I am committed to advancing an open dialogue with the US, China, Japan, South Korea and other like-minded nations on how we can fortify the region's humanitarian and natural-disaster relief architecture and capabilities."
Tsai said that Taiwan must articulate a stronger trade agenda, necessitating changes in how the nation conducts business and establishes strong frameworks to bolster investor confidence.
"In the near term, ensuring that Taiwan is ready for future candidacy into the Trans-Pacific Partnership and other regional economic agreements will be an important cornerstone of my economic policy," she said.
In response, an unnamed source from the Presidential Office asked why has Tsai not mentioned "maintaining the 'status quo'" as she did in Taiwan, and whether she takes different stances when in Taiwan and abroad.
Comments will be moderated. Keep comments relevant to the article. Remarks containing abusive and obscene language, personal attacks of any kind or promotion will be removed and the user banned. Final decision will be at the discretion of the Taipei Times.