Two New Taipei City police officers held, two bailed in corruption probe
Two senior New Taipei City police officers yesterday were detained incommunicado and two more were released on bail after being questioned over allegations of involvement in loan sharking and illegally confiscating private property.
Prosecutors detained Criminal Investigation Division senior specialist Chang Ming-wei (張明偉) and Haishan Precinct Captain Chang Wen-hsien (張文賢) to prevent them from fleeing or colluding with others amid a corruption probe that has reached into the upper echelons of the city's police.
Wensheng Borough (文聖) police station chief Chang Ming-chao (張明朝) and Luzhou District (蘆洲) police station chief Lu Chih-hsiu (呂志修) were freed after posting bail of NT$200,000 (US$6,513) each.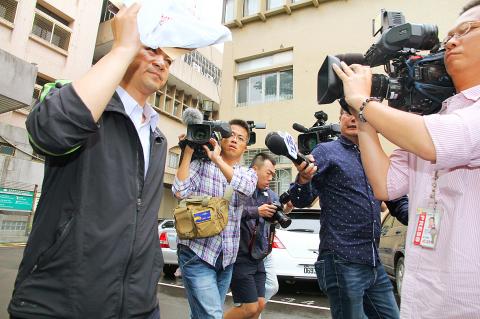 New Taipei City Lujhou District police chief Lu Chih-hsiu, left, tries to cover his face after being released on bail yesterday.
Photo: Hsieh Chun-lin, Taipei Times
The New Taipei City District Prosecutors' Office raided several locations on Friday last week, and served warrants to take the four officers and 13 other individuals associated with the case into custody for questioning.
Prosecutors said they are investigating the actions of the four men between 2009 and last year.
They allege the four suspects made more than NT$10 million though the questionable ownership of confiscated properties and other activities.
Prosecutors said they plan to file charges of fraud, corruption, forgery, blackmail and profiteering against the suspects.
They said Chang Ming-wei was the alleged ringleader of the group because of his ties with a company specializing in "real-estate management" and underground money-lending in Lujhou District headed by Su Ta-chang (蘇大昌).
Su was convicted last year after being arrested for loan sharking.
Chang Ming-wei reportedly got the other officers to invest as shareholders in Su's company.
Prosecutors alleged the four abused their authority by backing the loan sharking operation and threatening people who were behind in their loan payments.
The prosecutors said the four threatened and forced clients of Su's company to sign over their homes and other real estate that had been put up as collateral. They then transferred the homes and property deeds to themselves or family members, prosecutors said.
When victims threatened to report the officers to the police, the suspects allegedly told them: "It is no use, we are police officials … they will not handle your case."
Several people who were allegedly forced to turn over their property to the four suspects had been left homeless, although some of them had filed civil lawsuits against the suspects.
Prosecutors said that Chang Ming-wei has admitted his full involvement in the scheme, while Lu admitted to engaging in money-lending and debt-collecting.
Comments will be moderated. Keep comments relevant to the article. Remarks containing abusive and obscene language, personal attacks of any kind or promotion will be removed and the user banned. Final decision will be at the discretion of the Taipei Times.