Officials disagree on Ma prosecution
JUDICIAL OVERSIGHT: SID officials said the debate on the potential prosecution of Ma over the Taipei Dome rests on the fact the allegations concern his time as Taipei mayor
Senior judiciary officials disagree on whether to prosecute President Ma Ying-jeou (馬英九) in an ongoing legal row over the Taipei City Government's allegation that Ma colluded with Farglory Land Development Co (遠雄建設) to assist the company in making illegal profits from the Taipei Dome project.
Supreme Prosecutors' Office Prosecutor-General Yen Da-ho (顏大和) said the office's Special Investigation Division (SID) is unlikely to undertake the case, because the "SID is empowered to investigate corruption cases involving minister-level and higher officials."
"In practical terms, determining if the SID has judicial authority over a case depends on the post held by the suspect when the alleged corruption activities took place," Yen said.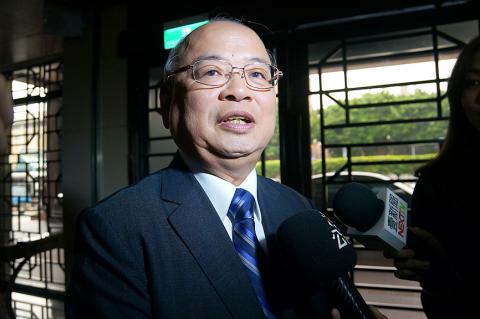 Prosecutor-General Yen Da-ho speaks with reporters in Taipei on March 31.
Photo: Chien Lee-chung, Taipei Times
At the time of contract negotiations for the Taipei Dome project, prior to commencement of its construction, Ma negotiated the contract details in his capacity as Taipei mayor.
On this point, a senior prosecutor who declined to be named said that since it occurred when Ma was serving as mayor, the case should be handled by the Taipei District Prosecutors' Office.
However, there were dissenting opinions among other prosecutors, who said that Ma is the president, and therefore the case fell under the jurisdiction of the SID.
Deputy Minister of Justice Chen Ming-tang (陳明堂) said his ministry is not the proper authority to undertake a judicial investigation and "an assessment will be made pending the receipt of documents relating to the case from the Taipei Clean Government Committee."
Another senior prosecutor, who requested anonymity, said the Constitution grants the president immunity from judicial prosecution, and thus the case could follow the same process as the corruption case of former president Chen Shiu-bian (陳水扁).
"Upon receiving the reports and documents, the case will be deferred and put aside for a time. When Ma ends his term as president, the case will be reopened," the prosecutor said.
A number of netizens reacted with anger and denounced what they said were "excuses to pervert the justice system to protect Ma."
Some cited the vigorous efforts by the SID to prosecute Chen, while treating many Chinese Nationalist Party (KMT) officials with leniency and delayed judicial proceedings.
"This shows the SID has become the KMT's puppet, and an instrument of prosecution against opposition parties," a netizen surnamed Sheng (沈) wrote.
Comments will be moderated. Keep comments relevant to the article. Remarks containing abusive and obscene language, personal attacks of any kind or promotion will be removed and the user banned. Final decision will be at the discretion of the Taipei Times.