Netanyahu forms Israeli government ahead of deadline
Israeli Prime Minister Benjamin Netanyahu held on to his job on Wednesday, announcing that he had hammered together a new coalition government just ahead of a midnight legal deadline, but with a knife-edge majority of just one seat in the 120-member parliament, expectations were that he would have to expand the ruling alliance beyond his natural religious and rightist partners or battle for survival at every vote.
"I am leaving here to call the president and the speaker of the parliament to inform them that I have been able to build a government," Netanyahu said in remarks at the Knesset after marathon talks with Jewish Home leader Naftali Bennett. "We need to launch it next week and we shall do so."
Israeli President Reuven Rivlin's office said he had sent a written note followed up with a telephone call.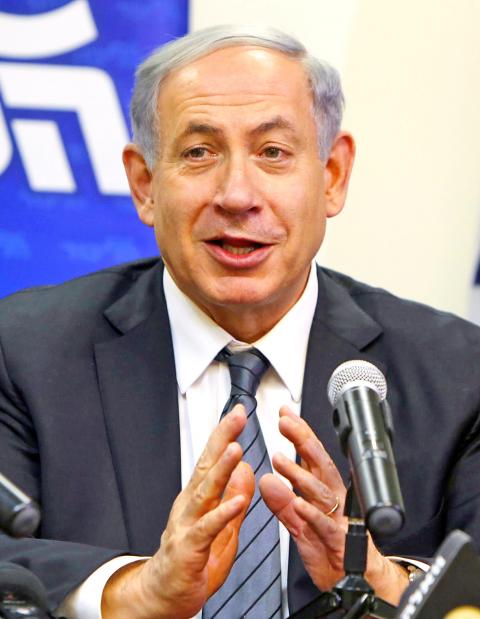 Israeli Prime Minister Benjamin Netanyahu speaks at a press conference at the Knesset in Jerusalem on Wednesday after announcing the formation of a coalition government.
Photo: AFP
"I am honored to inform you that I have been successful in forming a government, which I will request is brought before the Knesset for its approval as soon as possible," Rivlin's office quoted the note as saying.
"The negotiations are over," Bennett said on Twitter. "Now we get to work."
The news came just over an hour ahead of a legal deadline at midnight after which the task of forming a government would have been given to another party leader — most likely Isaac Herzog, head of the center-left Zionist Union, which won 24 seats in the March 17 election, behind 30 for Netanyahu's right-wing Likud.
The deal with Bennett leaves Netanyahu in command of 61 Knesset votes, bought at the cost of major concessions to his partners.
Analysts say he will be at the mercy of rebels, caprice, or even a bad cold the first time the coalition faces a crucial vote.
He would then be forced to expand the ruling alliance beyond his natural religious and rightist partners, and turn reluctantly to the Zionist Union, which has so far said it will sit in opposition.
"Netanyahu is left with an unmanageable situation," Tel Aviv University political scientist Emmanuel Navon said.
"The first thing he'll do tomorrow... is take his phone and start working on a coalition with [the Zionist Union]," he said.
Netanyahu "is a general without soldiers," the Maariv daily wrote.
Netanyahu himself said he hoped to expand the alliance, without elaborating.
"I have said that 61 is a good number and 61-plus is better still, but it starts at 61," Netanyahu said.
Comments will be moderated. Keep comments relevant to the article. Remarks containing abusive and obscene language, personal attacks of any kind or promotion will be removed and the user banned. Final decision will be at the discretion of the Taipei Times.