Tainan may remove school CKS statues
The Tainan City Government is considering the establishment of a task force to remove statues that depict Chiang Kai-shek (蔣介石) from local school campuses, Tainan Mayor William Lai (賴清德) said yesterday at a commemorative event for the families and victims of the 228 Incident.
The 228 Incident refers to an uprising that began on Feb. 27, 1947, against the then-Chinese Nationalist Party (KMT) regime and the resulting crackdown that left tens of thousands dead and led to nearly four decades of martial law.
The decision was made to give schools a clean learning environment and symbolize Taiwan's freedom from the autocratic rule of the past, Lai said.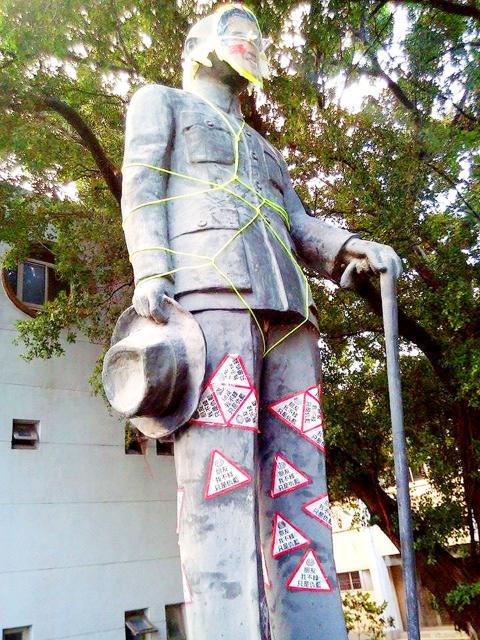 A statue of Chiang Kai-shek at the National University of Tainan has stickers pasted on it and a mask tied to it on July 25 last year.
Photo: Screengrab from Facebook
Many of Chiang's statues or busts at campuses across the nation are vandalized every year with paint or banners with the word "murderer" on them on the eve of the 228 Incident anniversary, Lai said.
Lai said the protest actions are an effort to remind Taiwanese of Chiang's autocratic rule and to introduce transitional justice.
Over the past six years, the Chinese Nationalist Party (KMT) has been reluctant to come to terms with "historical truths," nor have history textbooks been modified to convey such truths, Lai said.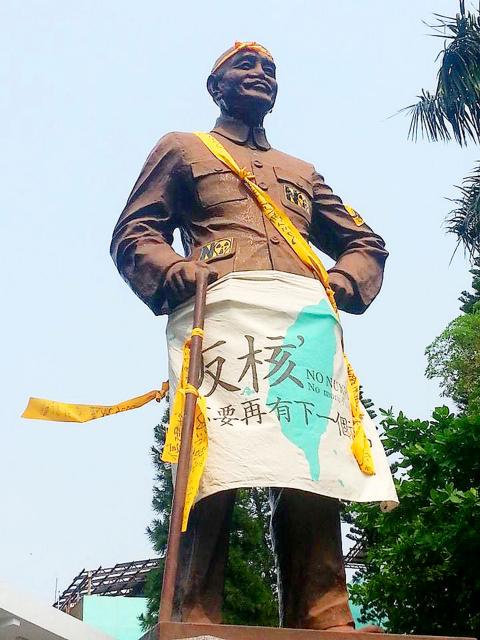 A banner reading: "No Nukes" is draped around a statue of Chiang Kai-shek at National Kaohsiung Normal University on April 24 last year.
Photo: Screengrab from Facebook
There are 14 Chiang statues across Tainan, Lai said, adding that Tainan City Hall plans to hold discussions with the Taoyuan City Government on the possibility of Taoyuan housing the statues.
No statues of Chiang remain in areas that comprised the former Tainan County because they were moved to Taoyuan prior to the merging of the county and city into a special municipality, Lai said.
Lai and the Tainan City Government stressed that the move is not meant to incite conflict and seeks to avoid defilement of the statues.
Comments will be moderated. Keep comments relevant to the article. Remarks containing abusive and obscene language, personal attacks of any kind or promotion will be removed and the user banned. Final decision will be at the discretion of the Taipei Times.