Freed journalist, al-Jazeera vow to fight on
Australian journalist Peter Greste will keep fighting to free his colleagues still jailed in Egypt, his family said yesterday, after he was released following more than 400 days in prison on charges of backing the Muslim Brotherhood.
Greste, an award-winning correspondent for al-Jazeera English television, flew to Cyprus with brother Michael after his release from Cairo's Tora prison on Sunday, Egyptian officials said.
Greste was detained along with Canadian-Egyptian Mohamed Fahmy and Egyptian producer Baher Mohamed in December 2013 for allegedly aiding the blacklisted Brotherhood.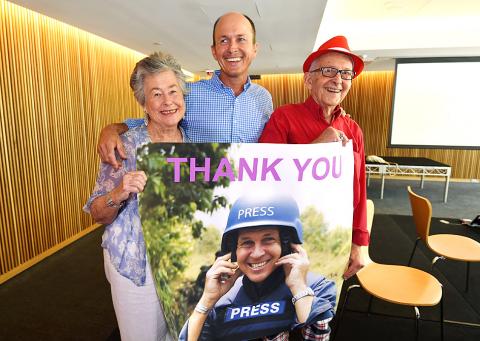 From left to right, family members of Australian journalist Peter Greste, mother Lois, brother Andrew and father Juris, yesterday pose with a picture of Peter during a news conference in Brisbane, Australia.
Photo: EPA
Their arrest sparked worldwide condemnation, with Washington and the UN leading calls for their release.
Fahmy's relatives expect him to also be deported under a decree passed by Egyptian President Abdel-Fattah al-Sisi that allows for the transfer of foreigners on trial.
Canada said Greste's release was "positive" and that it remained "very hopeful" that Fahmy would also be freed soon.
Greste's family expressed their joy after speaking to him on the telephone and vowed his colleagues still behind bars would not be forgotten.
"He's not going to forget his two other colleagues," Peter's brother Andrew said after the pair spoke on the telephone.
"He wanted me to pass on to everyone that he won't give up the fight ... they are completely innocent as well," Andrew Greste said. "There's no doubt that his excitement is tempered and restrained and will be until those guys are free."
His mother, Lois, told a news conference in their hometown of Brisbane: "I'm ecstatic. I just can't say how happy I am about it."
Greste was resting in Cyprus, and his father, Juris, said it was not clear when he would arrive home.
Qatar-based al-Jazeera also vowed to pursue the campaign to free the other two journalists.
"We will not rest until Baher and Mohamed also regain their freedom," said Mostefa Souag, acting director general of al-Jazeera Media Network.
Amnesty International said Greste's release should not overshadow the ongoing imprisonment of Fahmy and Mohamed.
"All three men are facing trumped up charges and were forced to endure a farcical trial marred by irregularities," Amnesty's Hassiba Hadj Sahraoui said.
Comments will be moderated. Keep comments relevant to the article. Remarks containing abusive and obscene language, personal attacks of any kind or promotion will be removed and the user banned. Final decision will be at the discretion of the Taipei Times.