Eric Chu inaugurated as KMT chairman
REFORM: Eric Chu reiterated his willingness to push for a constitutional system under which officials assume responsibility commensurate with their level of authority
Chinese Nationalist Party (KMT) Chairman Eric Chu (朱立倫) yesterday vowed to review the "impact of fast-paced cross-strait exchanges" and the "doubts" over the uneven distribution of benefits generated by cross-strait economic interaction, while adding that China should also face up to the problems.
The New Taipei City mayor made the remarks after he was inaugurated as party chairman, saying the problems were "undisputed."
The principles the party's cross-strait policies have been based on since it regained power in 2008, "peaceful development," "mutual benefit" and "a win-win relationship" have guided cross-strait relations in the right direction, Chu said.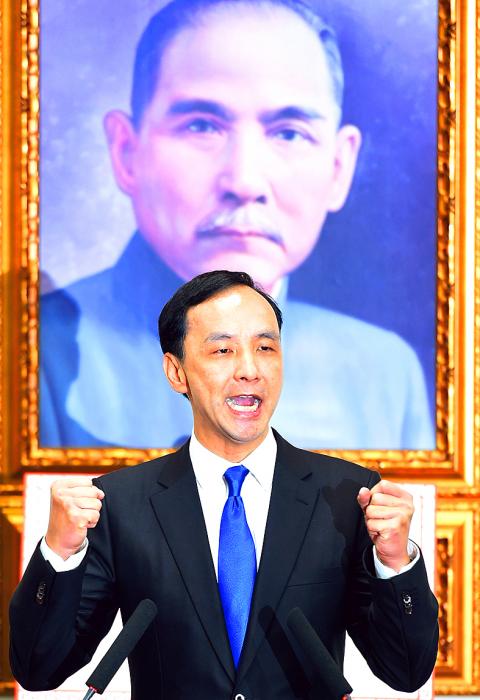 New Taipei City Mayor Eric Chu gestures as he delivers a speech at his inauguration as Chinese Nationalist Party (KMT) chairman at the party's headquarters in Taipei yesterday.
Photo: Chang Chia-ming, Taipei Times
"However, it is undisputed that the fast pace of exchanges in which both sides have engaged in close and intensive interaction have brought psychological impacts to us, because there is a very big difference between Taiwanese society and that [in China]," Chu said.
Chu added that cross-strait economic exchanges have raised concerns over whether the benefits generated have been shared fairly and equitably by the public and "we have to solemnly face up to those doubts."
The KMT would thoroughly review the two issues and would put them up for discussion, with both sides having the chance to exchange views, Chu said.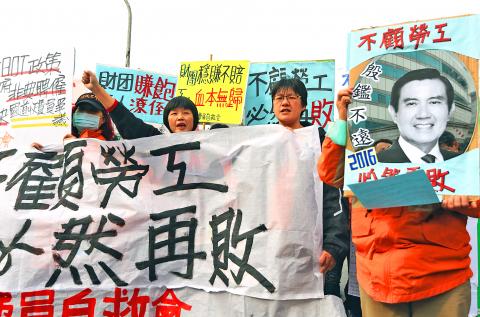 Members of the Former Toll Collectors Self-Help Organization demonstrate outside Chinese Nationalist Party (KMT) headquarters in Taipei yesterday where New Taipei City Mayor Eric Chu was being inaugurated as the new KMT chairman.
Photo: Chien Jung-fong, Taipei Times
Chu urged authorities "on the other side of the strait" to look squarely at the issues as well because it takes both sides working together to maintain a "steady" pace in cross-strait relations and make the relationship sustainable.
During the speech, Chu reiterated his willingness to sit down with the opposition parties and push for the reforms needed to implement a constitutional system under which officials assume responsibility commensurate with their authority and discuss bills concerning issues related to livelihood to foster fairness and justice.
Chu also pledged to make the executive and legislative branches of government work in tandem to facilitate the implementation of policy and to open the party to the younger generation by recruiting more talented young people.
However, Chu made no mention of the party's assets, although he had said during his campaign that all the party's ill-gotten assets should be returned to the nation.
President Ma Ying-jeou (馬英九), who resigned as chairman following the party's rout in the Nov. 29 elections last year, was one of the guests attending the ceremony.
The KMT was equipped with seven vice chairpersons under Ma's leadership, including Chu.
Chu said he would retain former Taipei mayor Hau Lung-bin (郝龍斌) and former Chiayi mayor Huang Min-hui (黃敏惠) as vice chairpersons.
Vice President Wu Den-yih (吳敦義), former KMT secretary-general Tseng Yung-chuan (曾永權), Deputy Legislative Speaker Hung Hsiu-chu (洪秀柱) and former Greater Taichung mayor Jason Hu (胡志強) would not be reappointed, he said.
Executive Yuan Secretary-General Lee Shu-chuan (李四川) would be appointed secretary-general of the party, he said.
Lee, who worked for the Taipei City Government when Ma was mayor and Chu's New Taipei City administration, is expected to play a major role in synchronizing the party, the executive and the legislative branches of government.
KMT Legislator Lai Shyh-bao (賴士葆) was appointed to replace KMT Legislator Alex Fai (費鴻泰) as chief of the policy committee.
Comments will be moderated. Keep comments relevant to the article. Remarks containing abusive and obscene language, personal attacks of any kind or promotion will be removed and the user banned. Final decision will be at the discretion of the Taipei Times.