CAA, military reject China flight routes
MILITARY: The Ministry of National Defense said its aerial patrols — which will not change — would repel aircraft that enter Taiwan's airspace without notification
A unilateral decision by China to establish new aviation routes near the midline of the Taiwan Strait without further negotiations with Taipei was "unacceptable," the Civil Aeronautics Administration (CAA) said yesterday, adding that it would seek to communicate with the Chinese government on related safety issues in the months to come.
CAA Director-General Jean Shen (沈啟) said that Beijing announced an updated aviation safety bulletin on Monday morning which included four new air routes near China's southeast coast. Among them, a route labeled M503 is nearly parallel to the middle line of the Taiwan Strait, coming as close to the line as 7.8km.
Additionally, three more routes — W121, W122 and W123 — were established as feeder routes for M503, she said.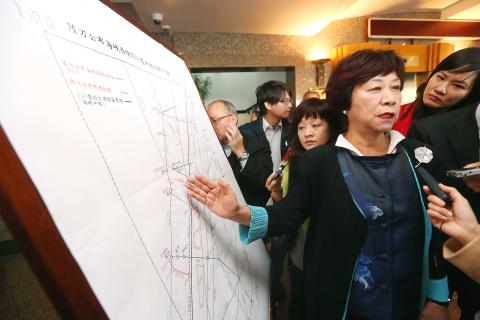 Civil Aeronautics Administration Director-General Jean Shen in Taipei yesterday shows a chart of air traffic routes around Taiwan alongside new ones announced by China on Monday.
Photo: CNA
"The air route W122 would affect Taiwanese air routes W8 and W2, which are used by Taiwanese flights to the outlying islands of Matsu," Shen said. "The W123 route, on the other hand, is close to Taiwanese route W6, which is used by flights to Kinmen."
Shen said that Beijing intended to use the M503 route to ease the load on its southeast coast route, which connects Shanghai, Fuzhou, Xiamen, Shenzhen, Zhuhai, Guanzhou and Hong Kong.
She said that both sides had had only "informal discussions" about creating such a route, including addressing the potential deviation of air routes due to inclement weather conditions, air traffic control issues and adjusted aircraft altitudes.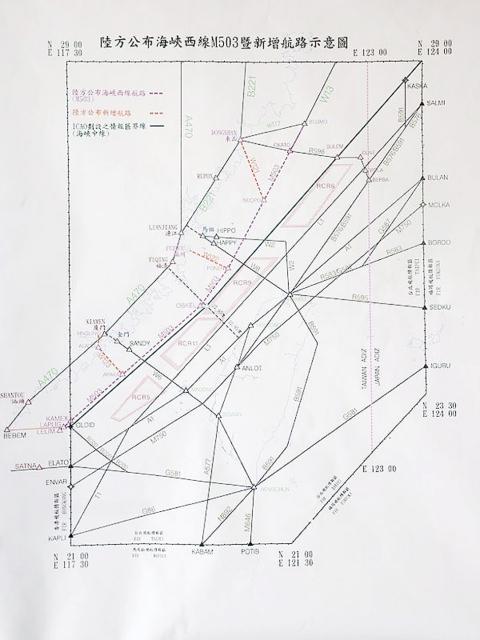 Air traffic routes around the nation are displayed alongside new ones announced by China on Monday on a chart released yesterday by the Civil Aeronautics Administration.
Photo courtesy of the Civil Aeronautics Administration
However, the two sides have not reached consensus on any one of these issues, she said.
The three feeder routes further surprised the administration, as Beijing had not mentioned anything about them previously, she said.
"Based on the spirit of the international civil aviation agreement, any member of the International Civil Aviation Organization should engage in negotiations in advance if any of its new air routes would affect the flight information regions [FIR] nearby," Shen said. "We find China's unilateral decision to establish these routes unacceptable. China should continue its communication with us, following the spirit of the international civil aviation agreement."
Shen said China is scheduled to start using these routes at midnight on March 5, adding that it had indicated that the flights would operate along a buffer zone that is about 7.4km west of M503 when the route goes into service.
However, she said that M503 falls within the Shanghai FIR, which is very close to the Taipei FIR and has to accommodate many international flights.
In light of potential aviation safety concerns that the new route could engender, Shen said the CAA would communicate the technical issues to China.
CAA air traffic control department director Lee Jian-kuo (李建國) said that determining how far west of M503 the CAA would want the routes to move requires further talks with China, adding that the agency wants the buffer zone to be "as large as possible."
Also, the Ministry of National Defense said that military air patrols would not be changed by China's flight route plans, adding that patrols of Taiwan's airspace will be increased, if necessary.
The military conducts airborne patrols throughout the nation's airspace and these will not be affected by China's route proposals, the ministry said in a statement.
Questioned about national security concerns, the ministry said that it will continue to monitor aircraft near the median line of the Taiwan Strait and increase air patrols if necessary.
In accordance with the principles of "No fear, no evasion and no showing of weakness," the ministry said it would monitor, intercept or expel aircraft entering Taiwanese airspace without prior notification.
Comments will be moderated. Keep comments relevant to the article. Remarks containing abusive and obscene language, personal attacks of any kind or promotion will be removed and the user banned. Final decision will be at the discretion of the Taipei Times.