Tainan mayor refuses to attend council meetings
Greater Tainan Mayor William Lai (賴清德) yesterday said he would not attend any of the municipality's city council meetings until corruption cases against newly elected council speaker Lee Chuan-chiao (李全教) of the Chinese Nationalist Party (KMT) are settled.
Lai made the announcement as Democratic Progressive Party (DPP) Greater Tainan councilors boycotted the interim city council meeting yesterday. DPP councilors on Sunday said Lee had called an extraordinary meeting as a pretext for not appearing in court for a case that was to be heard yesterday. Lee later denied that the calling of the extraordinary meeting was politically motivated or initiated by him.
Lai said Tainan is the mecca of democracy in Taiwan, something that residents have always been proud of.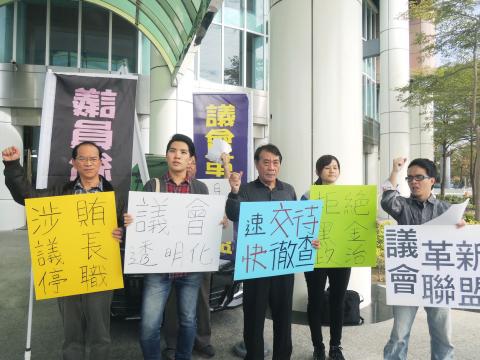 Members of civic groups protest outside the Greater Tainan City Council building yesterday.
Photo: Tsai Wen-chu, Taipei Times
However, this pride has been harmed by Lee, whose position as a councilor is in question, after the Tainan District Prosecutors' Office filed corruption charges against him on Wednesday last week seeking to invalidate his victory in the city council election on Nov. 29 last year, Lai said, adding that the office has also launched an investigation into alleged ballot-buying in the council speaker election.
Lee is the first politician in the nation's history of self-governance to be simultaneously involved in bribery charges in both city councilor and council speaker elections, Lai said, calling Lee a disgrace to Tainan. Lee had transformed Tainan City Council, a sanctuary of democracy, into a shelter, Lai added.
Lai then spoke against New Taipei City Mayor Eric Chu (朱立倫), the sole candidate for the Jan. 17 KMT chairman election, for what he described as failure to respond to public calls for change after the party's defeat in the nine-in-one elections by choosing to stand in solidarity with Lee, a person involved in double bribery cases, when Chu visited Tainan on Sunday.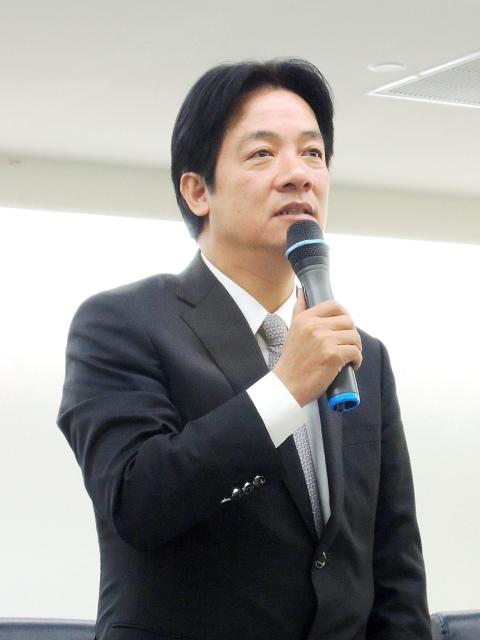 Greater Tainan Mayor William Lai speaks in the municipality yesterday.
Photo: Hung Jui-chin, Taipei Times
Lai also criticized Chu for speaking against the judicial system as "being manipulated by certain people."
"Not only did he trample on the justice system, he embraced 'black money,'" he said, referring to the alleged bribery.
"At [Monday's] meeting of the legislature's Internal Administration Committee, the amendment bill to the Local Government Act (地方制度法) to have council speakers and deputy council speakers elected by open registered ballots got blocked by KMT legislators. It is extremely disappointing that the KMT has again chosen to be absent on the road to reform," Lai said.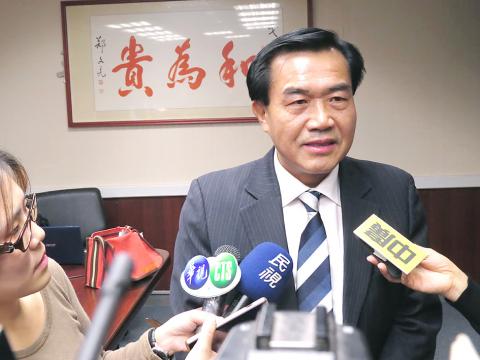 Standing in front of a sign that reads: "Peace is to be prized," Chinese Nationalist Party (KMT) Greater Tainan City Council Speaker Lee Chuan-chiao responds to Greater Tainan Mayor William Lai yesterday, after a city council session had to be postponed due to court proceedings.
Photo: Tsai Wen-chu, Taipei Times
He said he had no choice but to support the residents of Tainan by refusing to enter the disgraced council until the cases are settled.
Lee responded by saying that the mayor's remarks were made "on impulse," adding that the interim council meeting was called to serve the public on various issues such as food safety, organizational restructuring and the urban-rural divide.
"There have only been instances of the city council speaking scathingly against the municipality government; it should not take place in the opposite direction," Lee said.
As for accusations leveled by DPP Legislators Chiu Yi-ying (邱議瑩) and Tuan Yi-kang (段宜康) that funding from China was involved in the council speaker election, Lee said that if the two are willing to give up their legislative immunity, he would be "a coward if he does not dare to sue them."
Comments will be moderated. Keep comments relevant to the article. Remarks containing abusive and obscene language, personal attacks of any kind or promotion will be removed and the user banned. Final decision will be at the discretion of the Taipei Times.