Macau rejects activist dentist
A dentist who participated in the Sunflower movement and visited Hong Kong in support of the "Umbrella movement" was refused entry into Macau by customs officials who said he was a "threat to internal security and stability."
Shih Shu-hua (史書華), a member of a medical volunteer group during the Sunflower movement in March and April last year, said on Facebook that he had a "special experience" on Friday.
He was also denied a Hong Kong visa when trying to register for a planned entry on Thursday, which he attributed to an October visit. On that trip, during protests demanding democratic Hong Kong leadership elections, he made an onstage speech of support.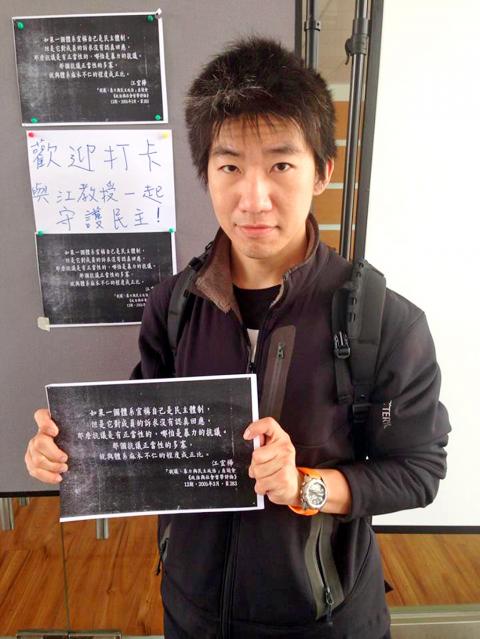 Shih Shu-hua, a member of a medical volunteer group during the Sunflower movement in March and April last year, is pictured in a photograph taken from Facebook and dated March 28 last year.
Photo: Screengrab from FattyMagic's Facebook page
"I kind of expected the Macau rejection after I could not register for a Hong Kong visa," he said.
Shih and his wife flew to Macau on Friday, but officials took him to a room where he was asked to wait and fill out forms, he said.
"The police kept saying that they knew nothing when [I] posed a series of questions, stressing that it was another unit that wanted to keep me there," Shih said.
He called the Taipei Economic and Cultural Office (TECO) in Macau and asked about being blacklisted by Chinese authorities.
"They confirmed the existence of a blacklist and said I might run into trouble if my name is identical to one of those listed," Shih said.
Shih said he was told by Macau police that he would not be able to enter the enclave and was asked to sign a notice of refused entry.
The reason given was "to bar the entry of non-locals who pose a threat to ... security and stability."
Mainland Affairs Council spokesperson Wu Mei-hung (吳美紅) told the Taipei Times that she has confirmed with the TECO in Macau that Shih did call the office for assistance on Friday.
"Our office contacted the Macau authorities and inquired into the matter. They said they were not able to provide the exact reason why Shih was rejected," Wu said. "We would have TECO in Macau express our concerns to the government and call for its respect of our people's rights of entry ... for tourism and business."
Comments will be moderated. Keep comments relevant to the article. Remarks containing abusive and obscene language, personal attacks of any kind or promotion will be removed and the user banned. Final decision will be at the discretion of the Taipei Times.