US president's Asia-Pacific message 'directed at China'
US President Barack Obama sought yesterday to reassure Asia-Pacific allies about Washington's strategic shift toward the region as he sent a veiled message to China with a vow to "deepen our engagement using every element of our power."
Speaking at the University of Queensland in Brisbane, Australia, where he is attending a G20 summit, Obama insisted that Asia's security order must not be based on "coercion or intimidation ... where big nations bully the small, but on alliances for mutual security."
Although Obama did not explicitly point the finger at China, there was little doubt that he was alluding to Beijing's maritime disputes with its neighbors and growing concern in the region about its military build-up.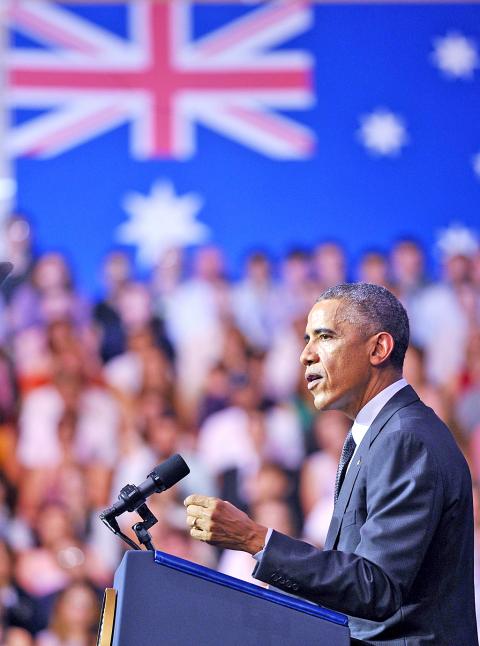 US President Barack Obama speaks at the University of Queensland on the sidelines of the G20 Summit in Brisbane, Australia, yesterday.
Photo: AFP
"No one should ever question our resolve or our commitments to our allies," he said.
Obama, who visited Beijing for an Asia-Pacific summit this week and held talks with Chinese President Xi Jinping (習近平), sought to show renewed resolve to follow through on his much-touted "pivot" to the region, involving military, diplomatic and economic assets.
The policy is widely seen as intended to counter China's rising influence, although Obama, at a news conference with Xi earlier in the week, denied there was any desire to contain Beijing.
However, many in Asia are looking for further proof that the policy is real, especially with Obama's agenda dominated by crises ranging from the battle against Islamic State militants and the conflict in Ukraine, to the spread of Ebola.
Obama made clear that in addition to security, Washington is determined to expand trade, a goal underscored by efforts to forge a trans-Pacific trade partnership in difficult negotiations that so far exclude China.
However, even as Obama hailed the region's "dynamism," he warned of potential threats.
"We see dangers that could undermine this progress," he said, citing North Korea's nuclear and missile programs, disputes over territory that threaten to spiral into confrontation and the failure to uphold universal human rights.
Comments will be moderated. Keep comments relevant to the article. Remarks containing abusive and obscene language, personal attacks of any kind or promotion will be removed and the user banned. Final decision will be at the discretion of the Taipei Times.