Kaohsiung taps the sea to fight dengue
EXPERIMENT: After tests found that immersing mosquito larvae in saline-laden water killed off most of the larva, officials plan to dump seawater into drains in Sanmin District
An experimental program run by the Greater Kaohsiung Government in its battle against dengue fever that uses seawater to flood drainage pipes appears to have been a success, city health officials said yesterday.
The city's Department of Health said almost all of the 200 larvae of Aedes aegypti mosquito, the main carrier of the dengue virus, died in less than 12 hours after being immersed in seawater-filled drains.
Kaohsiung is battling the worst outbreak of the disease in recent memory, with 10,138 confirmed cases in the city, out of the 10,600 nationwide this year.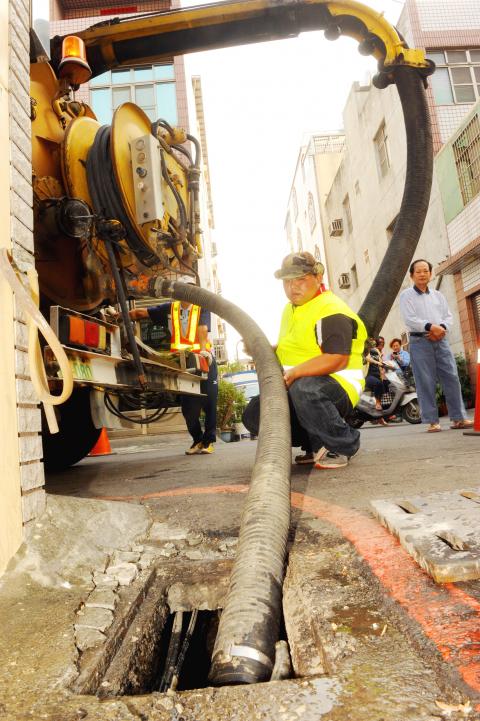 A worker pumps seawater into drain pipes in Greater Kaohsiung's Sanmin District on Monday as part of an anti-dengue fever experiment.
Photo: Chang Chung-yi, Taipei Times
"To prevent more mosquito larvae from breeding in drains during the dry season, the department recently began an experimental program to curb the mosquitoes' rampant growth by pouring seawater down the drains," Disease Prevention Division section head Ho Hui-pin (何惠彬) said.
In the first stage of the experiment, the department drew seawater samples from five ports, including the ferry station and the coast guard post in Cijin District (旗津), the Cianjhen and Gushan fishing ports and Sizihwan Bay (西子灣).
The samples had an average salinity of 30.5 practical salinity units (psu). Twenty mosquito larvae placed in a shallow container with the samples died within three hours, Ho said.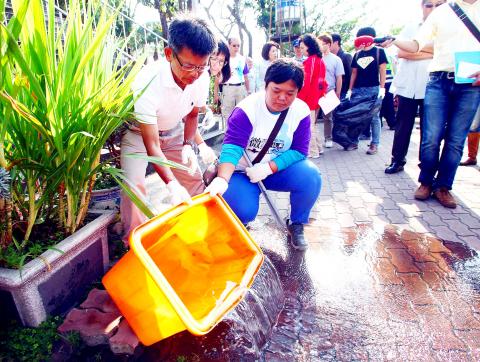 KMT Greater Kaohsiung mayoral candidate Yang Chiu-hsing, left, yesterday pours out water that could harbor mosquito larvae at the Baoan Temple in Wujia in the city's Fongshan District.
Photo: CNA
The samples were then diluted with water to about 15 psu, before being poured into five shallow containers that each held 20 larvae, Ho said, adding that all of the larvae died within 24 hours.
"The department then put 200 larvae in 10 nets made out of silk stockings and immersed them in two seawater-filled drains in Sanmin District's (三民) Benguan Borough (本館), which has been the most severely affected area in the outbreak," Ho said.
Only three larvae were still alive as of 9am yesterday, which met expectations, he said.
"For the next stage, we will pour seawater into 400m of drains in Sanmin District," Ho said.
Centers for Disease Control Deputy Director-General Chou Jih-haw (周志浩) said he had only read about such a preventive approach in research papers and had never seen it being applied in real life.
"Soaking mosquito larvae in high-density seawater for an extended period has been proven to be an effective mosquito-killing method in lab experiments. The agency will stay in close touch with Kaohsiung's health department," Chou said.
Meanwhile, Chinese Nationalist Party (KMT) Greater Kaohsiung mayoral candidate Yang Chiu-hsing (楊秋興) lambasted the seawater plan as "ludicrous."
The only effective way to contain the spread of the disease is by eliminating the environments where vector mosquitoes breed, the candidate said.
He said that with cases of people contracting dengue soaring, the municipality has suffered a major setback in its efforts to combat the disease, but Greater Kaohsiung Mayor Chen Chu (陳菊) continues to keep busy by attending opening ceremonies.
Additional reporting by Sean Lin
Comments will be moderated. Keep comments relevant to the article. Remarks containing abusive and obscene language, personal attacks of any kind or promotion will be removed and the user banned. Final decision will be at the discretion of the Taipei Times.