Ministry mulls housing law fixes
MEETINGS PLANNED: The interior ministry said it plans to hold public conferences on housing policy reform in January next year and welcomed protesters to attend
Amid widespread discontent on the government's housing policy, Ministry of the Interior officials yesterday announced plans for a draft housing bill to improve what critics label an underdeveloped rental market.
The announcement came on the heels of a massive "sleepout" launched by the Housing Movement on Saturday night, in which a reported 15,000 people camped out overnight on Renai Road in Taipei in front of The Palace — a luxury residential condominium valued at about NT$2 million (US$65,700) per square meter — in protest against unaffordable housing.
Housing Movement members said that a lack of regulations has made renting houses in Taiwan tedious and unreliable, leading to large numbers of idle houses that exacerbate unaffordable prices. They called for housing rights to be incorporated into the Constitution and for forced evictions and demolitions to end; reform of the housing tax system to stem speculation; construction of more public housing, to make 5 percent of the total homes in the nation for rental only; a halt to construction of for-sale public housing; and development of a housing rental market.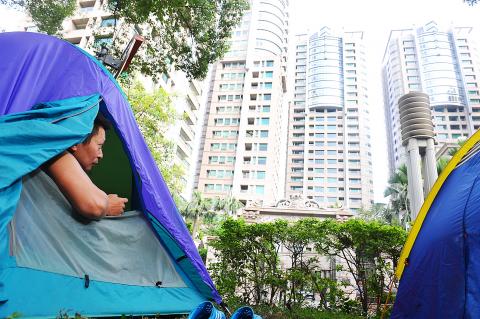 A participant of the Housing Movement's "sleepout" in protest against unaffordable housing looks up at the luxury condominium The Palace on Taipei's Renai Road from within his tent as the event comes to a conclusion yesterday.
Photo: Chang Chia-ming, Taipei Times
The ministry said it has proposed tax deductions and home renovation funds for people who lease properties, along with providing rental reimbursements for needy tenants, to encourage the growth of a rental housing market.
Deputy Minister of the Interior Jonathan Chen (陳純敬) said the ministry welcomes dialogue with civic groups, including the Housing Movement, and invited activists and experts to attend public conferences on housing policy reform scheduled for January next year.
Chen added that while residents of Taipei might anticipate the construction of public housing, many underprivileged people in southern Taiwan might prefer rental reimbursements.
In a public statement yesterday, the ministry also reiterated its plans to construct public housing and reform property taxes, adding that currently underutilized dormitories for civil servants could also be used to alleviate housing demand.
Additional reporting by CNA
Comments will be moderated. Keep comments relevant to the article. Remarks containing abusive and obscene language, personal attacks of any kind or promotion will be removed and the user banned. Final decision will be at the discretion of the Taipei Times.