New firm targeted by FDA in probe
BACKTRACKING? As its inquiry continues to widen, the agency said that consumers might not be at risk from 'limited' consumption of the problematic oil
The Food and Drug Administration (FDA) yesterday announced progress in its investigation of the allegedly tainted lard oil marketed by Chang Guann Co (強冠企業), stating that GASSHO (工研整合行銷), a trade company based in Taipei City, had bought and sold 69 tonnes of the problematic oil, marketed as "Ho Chiang Fragrant Lard Oil" (合將香豬油), which was divided into 4,611 cartons and sold to at least 473 businesses across the nation.
The FDA said GASSHO's product is the result of original equipment manufacturing (OEM), whereby the company commissioned Chang Guann Co (強冠企業), a food oil manufacturer in Greater Kaohsiung, to supply the reportedly tainted cooking oil and marketed it in different packaging and that the two products are essentially the same.
The Taipei City Government last night said it was to impose a NT$3 million (US$99,993) penalty on GASSHO on the grounds that the company "attempted to elude inspections and refused to turn in problematic products."
Taiwan Solidarity Union Taipei City councilor candidates protest outside the Food and Drug Administration in Taipei yesterday, holding up a sign with a play on words saying that the agency should change its name to the Feces Administration.
Photo: Chang Chia-ming, Taipei Times
The city government's probe revealed that the majority of Ho Chiang Fragrant Lard Oil had been sold to 397 restaurants and eateries in central and southern Taiwan.
It had pulled 425 cartons, and 298 had been disposed of, a city government statement said.
In other developments, the FDA's Northern Center for Regional Administration director Feng Jun-lan (馮潤蘭) said the FDA completed inspections of the 235 establishments that have purchased oil and made a list of 110 products processed with the tainted oil and marketed by 40 food companies.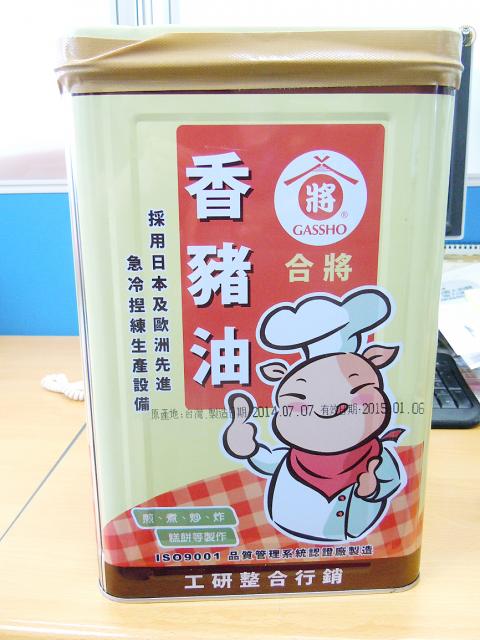 A can of Ho Chiang Fragrant Lard Oil sits on a desk in Changhua County yesterday. Changhua County Public Health Bureau has found that 39 food vendors in the county are using this oil, which is produced by Chang Guann Co.
Photo: Chang Tsung-chiu, Taipei Times
The list showed 12 products by Wei Chuan Foods Corp (味全食品工業) were processed using the oil, including eight pork floss and four canned meat sauce products, while Chi Mei Frozen Food Co (奇美食品) had 20 products made with the oil, including seven rice dumpling skin products, two sticky rice dumpling products and a baozi containing bamboo shoots, which were sold at 7-Eleven stores.
Out of the total 782 tonnes of problematic lard oil sold, 238.65 tonnes have been pulled; the remaining amount has most likely been consumed by the public or processed into products, she said.
She said that despite being on Chang Guann's sales record of companies who ordered the "fragrant lard oil," three companies in Keelung, Hualien County and Yunlin County denied using the allegedly tainted cooking oil and provided a document issued to them by the food oil company, stating that the problematic oil was not the product they had ordered.
Citing findings from the Greater Tainan Department of Health, she said that Haw Di-I Foods Co (好帝一), manufacturer of Bull Head Barbecue Sauce (牛頭牌沙茶醬), did not use the oil, which was refined between March 1 and Aug. 31.
As to why the agency had not yet compiled a list of end products manufactured by the remaining 191 firms which bought the lard oil, she said that these firms are mostly wholesalers, grocery stores, eateries and restaurants that order in smaller quantities and more haphazardly, making the probe more difficult.
The FDA is to continue to probe how the oil has been used by these smaller concerns, she said.
The FDA also announced the conclusions of an ad-hoc committee meeting held on Friday to assess the health risks of tainted lard oil, saying that while vending problematic food oil products is illegal, the public consumes a "limited" amount of such oils and that the products might not necessarily pose a threat to public health.
The committee concluded that more scientific conclusions must be incorporated into the assessment process before the oil can be said to pose health risks.
The FDA said it would issue a "red light" warning if there is a health risk from short-term use of a product, a "yellow" if long-term use is harmful and "blue" if the product can be used, but it contains excessive levels of certain ingredients.
In response to the agency's comments that the food safety risk posed by the tainted lard oil is still labeled under the "green light," which is a category for products that do not conform to its label, but do not pose a health hazard, Consumers' Foundation chairman Mark Chang (張智剛) yesterday said he was at a loss as to the grading criteria.
 "So many incidents jeopardizing food safety have occurred. Still, the officials always claim that the food is safe," he said.
Additional reporting by Chen Ping-hung and CNA
Comments will be moderated. Keep comments relevant to the article. Remarks containing abusive and obscene language, personal attacks of any kind or promotion will be removed and the user banned. Final decision will be at the discretion of the Taipei Times.