Lesotho army disarms police to 'secure' nation
Lesotho's military yesterday seized and disarmed two police stations in the mountainous kingdom in a bid to secure the country, the nation's defense force spokesman said.
However, the country's prime minister said the military actions amounted to a coup.
Gunfire rang out early in the morning in Maseru, the capital, because of an exchange of fire between the military and police and young people at one of the stations that injured one soldier and four policemen, Basotho military spokesman Ntlele Ntoi told reporters.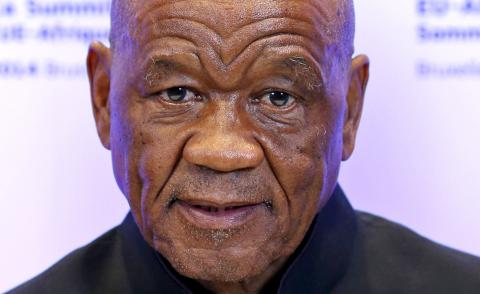 Basotho Prime Minister Thomas Thabane attends an EU-Africa summit in Brussels on April 2.
Photo: Reuters
"The situation in Lesotho, in the capital, is back to normal. It's business as usual," he said.
He said the military had gathered intelligence that the police were going to arm factions participating in a demonstration planned for tomorrow by one of the coalition parties, the Lesotho Congress for Democracy. The military disarmed police to avoid bloodshed, the spokesman said.
"The arms have been removed and they are in military custody. The military has returned to the barracks," he said, denying reports of any coup attempt. "We are not in a position now or in the future to stage a coup. All we do is to carry out our mandate to secure our country and property."
Ntoi said he had heard reports that radio stations had been down for a few hours.
He said he could not say if they were down due to technical problems or because of the military.
Basotho Prime Minister Thomas Thabane told South Africa's eNCA television that the military actions amounted to a coup. He said something like this should not be happening in a democratic state, and that he would be meeting with South African officials.
He said he expects South Africa to help the government restore law and order.
Bernard Ntlhoaea, a guard at the US Embassy in Maseru, confirmed that gunfire was heard in the capital early yesterday.
"The military has been moving around from 3 o'clock in the morning, occupying police stations in Maseru and moving around to other districts," Ntlhoaea said.
He said the military was armed and he saw at least one armored personnel carrier on the streets.
Political tensions have been high in the tiny kingdom, which is completely surrounded by South Africa, since June, when there was a power struggle after Thabane suspended parliament to dodge a vote of no confidence.
Comments will be moderated. Keep comments relevant to the article. Remarks containing abusive and obscene language, personal attacks of any kind or promotion will be removed and the user banned. Final decision will be at the discretion of the Taipei Times.