China demands it be left alone over Hong Kong
China warned against foreign meddling in Hong Kong's politics yesterday, ahead of an expected announcement to recommend highly contentious restrictions on the first direct elections for the leader of the Chinese-controlled financial hub.
An article in the People's Daily, the Chinese Communist Party's (CCP) flagship newspaper, said that some people in the former British colony were colluding with outside forces to interfere in Hong Kong's governance.
"Not only are they undermining Hong Kong's stability and development, but they're also attempting to turn Hong Kong into a bridgehead for subverting and infiltrating the Chinese mainland... This can absolutely not be permitted," the article said, citing an unidentified official in the Chinese Ministry of Foreign Affairs' department for Hong Kong, Macau and Taiwan.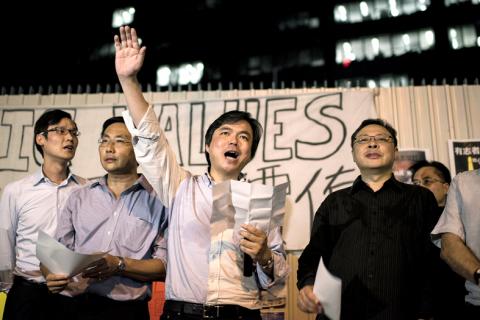 Activists Edward Chin (C), organiser of Financial Professionals for Occupy Central, and Benny Tai (R), co-founder of the Occupy Central movement, chant slogans at a protest outside government offices in Hong Kong on Friday. Demonstrators gathered on Friday to urge universal suffrage in Hong Kong, as the top committee of China`s legislature meets in Beijing to discuss political reforms in the southern city.
Photo: AFP
The article said that as a special administrative region of China, Hong Kong's affairs are entirely a Chinese internal matter.
China would refute and make "solemn representations" in response to statements and actions by foreign forces and demand that they "cease meddling in Hong Kong's affairs and Chinese internal political matters by any means," the article said.
The article did not identify any individuals or groups, although the UK and the US have both been vocal about their hopes for genuine democratic reform in Hong Kong.
The warning appeared as China's legislature was expected to announce today that an elite pro-Beijing body must vet candidates for the territory's leader starting from 2017 — setting up a showdown with pro-democracy groups who want Hong Kongers to be able to freely nominate candidates.
Hong Kong newspapers have reported that the Chinese Standing Committee of the National People's Congress is to recommend that voters choose from up to three candidates named by a nominating body, while the public gets no say.
That would resemble the current system under which a 1,200-member panel stacked with mostly pro-Beijing elites gets to pick the leader.
Democracy activists are threatening to respond with a mass sit-in which would paralyze the financial district that is the symbolic heart of the city. Student leaders are also considering a walkout of university classes next month.
Since being handed back from the UK in 1997, Hong Kong has retained a high degree of legal, economic and political autonomy.
However, there are growing concerns among many of the territory's 7 million people that Beijing wishes to insert itself more strongly into Hong Kong's affairs, particularly in ensuring that its leadership remains beholden to the CCP.
Comments will be moderated. Keep comments relevant to the article. Remarks containing abusive and obscene language, personal attacks of any kind or promotion will be removed and the user banned. Final decision will be at the discretion of the Taipei Times.