Indirect Gaza talks between Hamas and Israel begin in Cairo
Israel and Hamas began indirect talks on a new border deal for the blockaded Gaza Strip as a ceasefire ending their month-long war entered its second day yesterday.
Israel has said it wants the militant group to disarm, or at least ensure it cannot rearm, before considering Hamas' demand that the territory's borders be opened. Israel and Egypt imposed a closure after the Hamas takeover of Gaza in 2007.
The indirect talks are being held in Cairo, with Egyptian mediators shuttling between the delegations.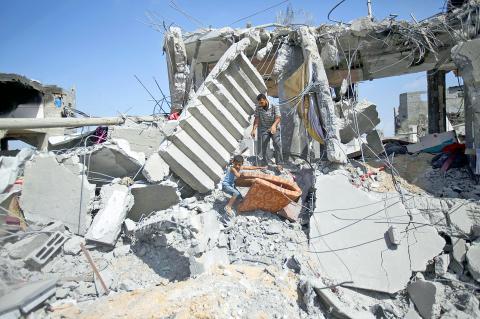 People salvage items from the rubble of a destroyed building in part of Gaza City's al-Tufah neighborhood yesterday.
Photo: AFP
Disarming Hamas tops the list of Israeli demands presented in a meeting with Egyptian mediators late on Tuesday, said an Egyptian security official, who spoke on condition of anonymity because he was not authorized to speak to the media.
The Israeli delegation has since left for Israel, but was to return to Cairo later yesterday, the official added.
The Palestinian delegation is composed of negotiators from all major factions, including Hamas, and was to meet with Egyptian officials later yesterday to be briefed on Israel's demands, Palestinian delegate Bassam Salhi said.
"The most important thing to us is removing the blockade and start reconstructing Gaza," Salhi said. "There can be no deal without that."
He said the ceasefire, set to expire at 8am tomorrow, would likely be extended if more time for talks is needed.
Talks are still in the early stages, but the outlines of a possible solution have emerged, including internationally funded reconstruction of Gaza overseen by a Palestinian unity government led by Palestinian President Mahmoud Abbas. The Western-backed Abbas lost control of Gaza in the Hamas takeover of 2007.
In a step toward reconstruction, Norway is organizing a donor conference, tentatively set for the beginning of next month.
Regarding easing the blockade, a statement by Egyptian intelligence indicated it would not agree to major changes at the Rafah crossing between Egypt and Gaza, and the onus of lifting the border closure would fall on Israel.
The ceasefire is the longest lull in a war that has killed nearly 1,900 Palestinians.
The war broke out on July 8, when the Israeli military began bombarding targets in Gaza in an attempt to stop Hamas from launching rockets at Israel and then nine days later it sent in ground troops to destroy underground tunnels.
In the weeks leading up to the war, Israeli-Palestinian tensions had already been rising following the June killings of three Israeli teenagers, whose bodies were discovered two weeks after they disappeared in the West Bank.
Israel accused Hamas of being behind the abductions and subsequently carried out a massive ground operation in the West Bank, arresting hundreds of Hamas operatives as part of a manhunt.
Then early last month, an Arab teenager was abducted and burned alive by Israeli extremists in an apparent revenge attack.
Six Jewish Israelis were arrested for that killing.
The Israeli Ministry of Justice on Tuesday said it had arrested Hussam al-Qawasmi, the suspected mastermind behind the killing of the Israeli teens.
Comments will be moderated. Keep comments relevant to the article. Remarks containing abusive and obscene language, personal attacks of any kind or promotion will be removed and the user banned. Final decision will be at the discretion of the Taipei Times.