PRC listed as top concern in Japanese defense paper
Japan yesterday warned that China's "dangerous acts" over territorial claims in the East China Sea could lead to "unintended consequences" in the region, as fears grow of a potential military clash.
The annual defense white paper was adopted by Japanese Prime Minister Shinzo Abe and his ministers at a Cabinet meeting, heaping criticism on Beijing's unilateral declaration of an air defense identification zone (ADIZ) late last year.
The zone sparked regional criticism, as well as condemnation from Washington, while commentators voiced concern over the growing chances of an armed conflict between the two Asian powers.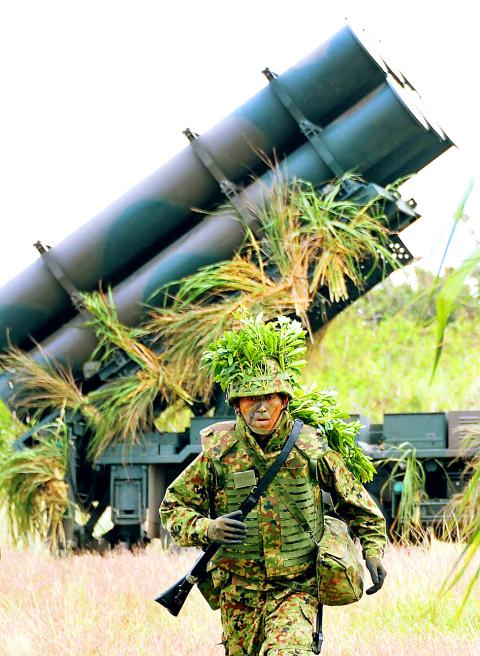 A soldier from Japan's Ground Self Defense Force prepares to fire a surface-to-ship missile at Camp Naha in Okinawa, Japan, on Nov. 11 last year.
Photo: AFP
Tokyo's paper, which noted that China's military budget had quadrupled over the past decade, said Japan was seeing an "increasingly severe" security environment.
"Japan is deeply concerned about the establishment of 'the East China Sea ADIZ' which is a profoundly dangerous act that... escalates the situation and may cause unintended consequences," the 505-page paper said.
Chinese vessels and aircraft have regularly approached an East China Sea archipelago which is believed to harbor vast natural resources below its seabed and is claimed by both countries after Tokyo nationalized three of the islets in 2012.
The islets are called the Senkaku Islands by Japan, the Diaoyu Archipelago (釣魚群島) by China and the Diaoyutai Islands (釣魚台) by Taiwan, which also claims them.
In a June confrontation, Tokyo said that two Chinese fighter jets flew within 30m of its aircraft in an area where the two nations' air defense zones overlap.
Beijing responded that it was Japanese military planes that flew dangerously close to its aircraft. China has also laid claim to much of the South China Sea, angering Vietnam, the Philippines and other Southeast Asian nations.
"In regard to conflicts over maritime interests, China has adopted assertive measures, including attempting to alter the status quo by coercive measures... which is incompatible with the existing international law and order," the paper said. "These measures include dangerous acts that could cause unintended consequences and raise concerns over China's future direction."
Tokyo's paper also warned that an unpredictable North Korea "repeatedly uses militarily provocative words and actions."
"Military trends in North Korea constitute a serious destabilizing factor to the security not only of Japan, but of the entire region and the international community," it said.
Japan's military budget had been on the decline since 2002, but it has taken an upward turn, rising 2.2 percent in the current fiscal year, the paper said.
Comments will be moderated. Keep comments relevant to the article. Remarks containing abusive and obscene language, personal attacks of any kind or promotion will be removed and the user banned. Final decision will be at the discretion of the Taipei Times.