Premier 'callous' after disaster: DPP
'THREE NOES': DPP Legislator Lee Kun-tse said Kaohsiung residents had paid a high price for the sake of economic development and that now they are being 'stomped on'
Democratic Progressive Party (DPP) lawmakers representing constituencies in Greater Kaohsiung were riled yesterday after Premier Jiang Yi-huah (江宜樺) declined their request for a special provision bill, financial assistance through a special budget allocation and a dedicated agency to administrate post-disaster relief and reconstruction.
At a press conference in Taipei, DPP legislators Chao Tien-lin (趙天麟), Lee Kun-tse (李昆澤), Chiu Yi-ying (邱議瑩), Lin Tai-hua (林岱樺), Kuan Bi-ling (管碧玲), Chen Chi-mai (陳其邁), Chiu Chih-wei (邱志偉) and Hsu Chih-chieh (許智傑) denounced the central government for what they called "giving a cold shoulder" to the victims.
"They are rubbing salt into the wounds suffered by Kaohsiung residents," said Chao, whose constituency is in Cianjhen (前鎮) and Lingya (苓雅) districts, which was where the explosions took place last week, killing 28 people and injuring more than 300. "We are very disappointed. The explosions caused such extensive destruction, but Premier Jiang is treating it as just an ordinary incident. His callous treatment will delay reconstruction efforts and make residents suffer more pain for longer."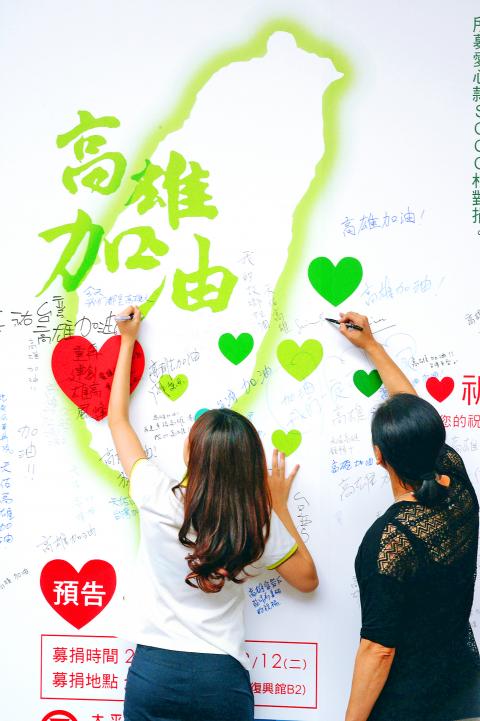 People at the Fuxing Sogo Department Store in Taipei yesterday write words of encouragement on a map of Taiwan after the firm announced it would collect disaster relief donations for Greater Kaohsiung at its stores. Sogo pledged to match public donations.
Photo: CNA
Lee said Greater Kaohsiung residents have suffered pollution and paid a high price for the sake of the nation's economic development.
"Now the residents need help from the central government, but the administration of President Ma Ying-jeou (馬英九) is stomping on Kaohsiung instead," he said.
He said that Greater Kaohsiung has a budget of NT$1.26 billion (US$42 million) for disaster relief and when spending on other natural disasters is taken out, there is only NT$500 million left.
"This amount is not enough even for the road repairs. If the central government's financial subsidy is not forthcoming, it will be impossible to recover from this disaster," Lee said.
Chinese Nationalist Party (KMT) legislators also met with Jiang yesterday.
KMT legislators Alex Fai (費鴻泰), Huang Chao-shun (黃昭順) and Lin Kuo-cheng (林國正) told a press conference that Jiang had agreed that the Executive Yuan would shoulder the expenses that the local government's disaster fund cannot cover.
Lin Kuo-cheng said the premier has also pledged to have the Ministry of Economic Affairs tackle the problem caused by the municipality's jumbled gas pipelines.
On Monday, DPP Greater Kaohsiung councilors raised four key demands with the central government — that reconstruction funding should be subsidized in full by the central government; compensation for the victims should be paid out by central government and that it should assist the victims in seeking compensation from the company responsible; bar the relaying of gas pipelines during the reconstruction; and to fully focus efforts on reconstruction and not political mud-slinging.
Comments will be moderated. Keep comments relevant to the article. Remarks containing abusive and obscene language, personal attacks of any kind or promotion will be removed and the user banned. Final decision will be at the discretion of the Taipei Times.