Support slump prompts KMT action
CORRUPTION: Sources said that party central is seeking to involve outgoing county and city heads to resolve internal disputes in a bid to lift its sagging public image
With support for the Chinese Nationalist Party (KMT) in local cities and counties dipping following a series of corruption cases involving KMT officials, the party is considering involving its outgoing county and city heads in its inner workings, promising them better positions with the party depending on how they help out in the year-end elections.
Ongoing investigations into potential corruption in an affordable housing project in Taoyuan County's Bade District (八德) and the Public Works Department of New Taipei City, and alleged bribery involving Keelung Council Speaker Huang Ching-tai (黃景泰), plus the indictment last year of then-Nantou county commissioner Lee Chao-
ching (李朝卿) on corruption charges, have reflected poorly on the KMT.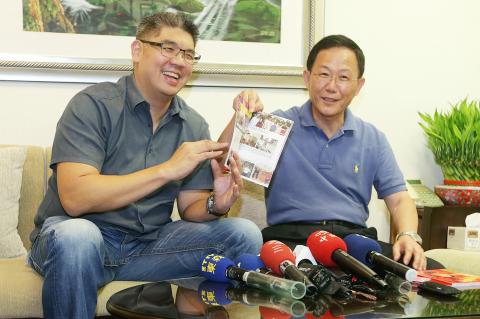 Chinese Nationalist Party (KMT) Taipei mayoral hopeful Sean Lien, left, and KMT Legislator Ting Shou-chung talk to the press in Ting's office in the legislature yesterday.
Photo: CNA
According to party sources, several county commissioners and city mayors have been placed on a watch list by the party due to sliding support ratings.
For example, Changhua County is regarded as an important battlefield, but disputes are getting in the way, the sources said.
KMT Legislator Lin Tsang-min (林滄敏), who won the party primary to run in the year-end Changhua County commissioner election, is reportedly at odds with Changhua County Commissioner Cho Po-yuan (卓伯源), who is said to prefer Changhua County Deputy Commissioner Ko Cheng-fang (柯呈枋) to be his successor, the sources said.
Lin reportedly met with KMT Deputy Chairman Tseng Yung-
chuan (曾永權), the party's election manager, asking for intervention.
"As long as the battle is won, party central would 'arrange' a position," the source quoted Tseng as saying, adding however that Tseng had also said he could not promise what the position would be.
The same issue has occurred in Miaoli County, where Miaoli County Commissioner Liu Cheng-hung (劉政鴻) is reportedly at odds with KMT Miaoli County commissioner candidate Hsu Yao-chang (徐耀昌) after Liu's "designated" successor lost the party primary, the sources said.
The KMT's efforts in Chiayi City has also suffered some setbacks, according to the sources.
During a recent city government event, Chiayi KMT mayoral candidate Chen Yi-chen (陳以真) was asked not to wear a vest with the party logo and her name on it and was denied participation in a ceremonial lifting of a cloth from a plaque, the sources said.
However, Democratic Progressive Party (DPP) candidate Twu Shiing-jer (涂醒哲) wore a DPP vest on stage at the event.
The local campaign office is perplexed at the different standards, and there are voices within the party calling for a notice to be given to KMT Chiayi Mayor Huang Min-hui (黃敏惠), the sources said.
Meanwhile, of the seven county commissioners and city mayors who are to leave their posts after the elections, Taipei Mayor Hau Lung-bin (郝龍斌) is currently not favored within the KMT due to his criticism of President Ma Ying-jeou's (馬英九) administration's policies and his support of requests such as medical parole for former president Chen Shui-bian (陳水扁), the sources said.
Huang, on the other hand, currently has the greatest chance to rise in the KMT, but if she fails to hold on to Chiayi City, it would be a large stain on her resume, the sources added.
Comments will be moderated. Keep comments relevant to the article. Remarks containing abusive and obscene language, personal attacks of any kind or promotion will be removed and the user banned. Final decision will be at the discretion of the Taipei Times.