HK poll organizers urge territory to respect its results
BIG DAY TODAY: The results were released one day before half a million people are expected to rally to mark the anniversary of the handover to Beijing
Organizers yesterday urged Hong Kong's government to take seriously an unofficial referendum on democratic reform after nearly 800,000 people voted in the territory, but state media in Beijing dismissed the ballot as unpatriotic.
The poll organized by pro-democracy activists that closed late on Sunday saw more than 780,000 people voting on how Hong Kong's next leader should be chosen, days before a planned massive protest for greater democracy in the territory.
About 88 percent urged the territory's lawmakers to veto any political reforms that do not meet "international standards."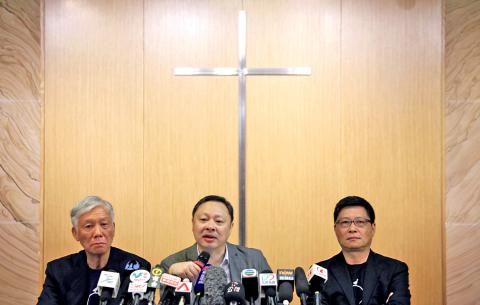 The founders of the so-called Occupy Central protest movement, from left, Reverend Chu Yiu-ming, Benny Tai and Chan Kin-man, hold a news conference in a Hong Kong church yesterday to announce the result of an unofficial referendum on democratic reforms in the territory that concluded on Sunday.
Photo: Reuters
The number of voters represents almost a quarter of the 3.47 million registered voters in 2012.
"The Hong Kong government should take seriously the views of nearly 800,000 citizens," referendum organizer Benny Tai (戴耀廷) told a radio program yesterday.
The ballot was organized by a group called Occupy Central, which threatens a mass sit-in in the Central district later this year unless authorities come up with acceptable electoral reforms.
Chinese state media slammed the referendum as unpatriotic and driven by "political paranoia," while the territory's government said it "respected" people's views.
"The basic political requirement for Hong Kong's chief executive is that they must love both the country and Hong Kong. The opposition has refused to accept this requirement," the Global Times said in an editorial.
"Some people have become frenzied. They seem civilized and rational, but their political paranoia is about to light a fuse," the editorial added.
The China Daily called the poll an "unconstitutional political charade" and accused the US of funding its organizers.
Beijing has promised to let Hong Kong residents elect their next chief executive in 2017, but has ruled out giving voters a say in selecting candidates.
The winning proposal, offered by the Alliance for True Democracy, would allow the public or democratically elected lawmakers to nominate candidates.
Organizers of today's rally and march, marking the July 1 anniversary of the transfer of sovereignty, expect it to be the largest since the handover with at least 500,000 people expected.
Comments will be moderated. Keep comments relevant to the article. Remarks containing abusive and obscene language, personal attacks of any kind or promotion will be removed and the user banned. Final decision will be at the discretion of the Taipei Times.