Ko wins over Yao in DPP Taipei mayor public poll
National Taiwan University Hospital physician Ko Wen-je (柯文哲) yesterday beat Democratic Progressive Party (DPP) Legislator Pasuya Yao (姚文智) in a public opinion survey and is widely expected to represent the pan-green camp in the Taipei mayoral election in November if the DPP decides not to nominate its own candidate.
A public poll that matched Ko and Yao against Chinese Nationalist Party (KMT) candidate and former Taipei EasyCard Corp (悠遊卡公司) chairman Sean Lien (連勝文) was conducted on Thursday night to determine the final pan-green camp candidate.
"Ko and Yao both defeated Lien in the poll, but Ko won by a larger margin," DPP Legislator Gao Jyh-peng (高志鵬), convener of the DPP's integration panel, told a press conference yesterday.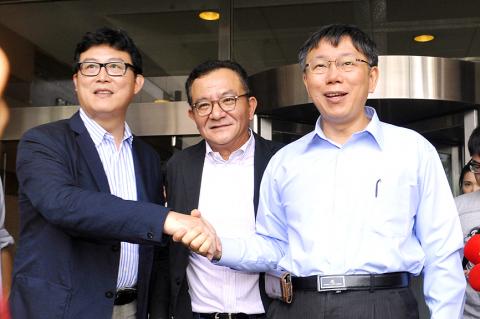 Democratic Progressive Party (DPP) Legislator Gao Jyh-peng, center, together with Taipei mayoral hopefuls DPP Legislator Pasuya Yao, left, and National Taiwan University Hospital physician Ko Wen-je, holds a press conference in Taipei to announce the results of a DPP public opinion survey, which showed that Ko is more popular with potential voters than Yao.
Photo: George Tsorng, Taipei Times
The integration panel "will refer the results of the survey to the [DPP's] Central Executive Committee meeting on Wednesday for a final decision," he added.
Gao's comment means that Ko is expected to run in the race as an independent without having to fight for voter support with a DPP nominee unless the DPP decides otherwise.
According to a previous agreement, the details of the poll results would not be announced and the DPP would not comment on any report about the results.
Formosa Television reported that Ko beat Lien 43 percent to 28 percent, while Yao and Lien tied at 33 percent each.
Online news Web site Storm Media reported that Ko led Lien by 15 percentage points, while Yao defeated Lien by 5 points.
Ko, who attended the press conference with Yao and Gao, said he appreciated Yao's and the DPP's agreement to an unprecedented "integration" mechanism to finalize a candidate between independents and DPP contenders.
"However, we haven't arrived at a fairy-tale ending of 'living happily ever after,' as tough challenges still lie ahead," Ko said.
Yao said he was proud to be part of the mechanism, but did not concede defeat. He said he was still hopeful that the party would pick him as its candidate since he is likely to defeat Lien as well.
Both sides have previously agreed that after a poll is held, the DPP would also take the candidates' policies, values and campaign specifics into consideration in making its final decision.
Ko has also said that if he defeated Yao by less than 3 percentage points, he would drop out of the race and let Yao run in the election.
A senior party official, who requested anonymity because he was not authorized to speak on the matter, said that even if Ko emerged as the final candidate, integrating his campaign office with the party's for its Taipei City council candidates would be a great challenge.
Responding to the survey, former vice president Annette Lu (呂秀蓮) said she does not rule out entering the race.
Lu, one of the DPP contenders in the Taipei mayoral primary, refused to participate in the party's "integration mechanism" with Ko, saying that the mechanism was "a disgrace to the DPP's values and character," as well as a reflection of the party's defeatism.
Lu will have to withdraw from the DPP to run as an independent. She could face party discipline if she registered as a candidate without securing the party's nomination.
Meanwhile, former DPP lawmaker Shen Fu-hsiung (沈富雄) declared his intention to enter the Taipei mayoral race, citing dissatisfaction with Ko and Lien.
The senior politician said he was particularly unhappy with the DPP's lack of confidence in nominating its own candidate as well as Ko's overnight popularity as a self-proclaimed "amateur politician."
Award-winning writer Neil Peng (馮光遠), who did not participate in the DPP's integration mechanism, is also running as an independent.
Comments will be moderated. Keep comments relevant to the article. Remarks containing abusive and obscene language, personal attacks of any kind or promotion will be removed and the user banned. Final decision will be at the discretion of the Taipei Times.