FPG calculating losses from 'anarchy' at Vietnam unit
Formosa Plastics Group (FPG, 台塑企業), the nation's largest industrial conglomerate, yesterday said that anti-China protesters in Vietnam broke into the facilities of its division in Nhon Trach District, Dong Nai Province, on Tuesday, injuring one employee from Taiwan.
The protests were caused by China's dispatch of an oil rig to a disputed area in the South China Sea 120km from Vietnam's coast.
However, protesters on Tuesday either could not or did not differentiate between Taiwanese companies and Chinese ones, Hong Fu-yuan (洪福源), president of the group's Vietnamese division, Formosa Industries Corp (台灣興業), said in Taipei yesterday.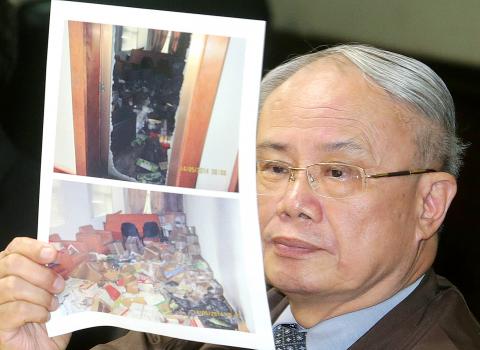 Formosa Chemicals and Fibre Corp general manager Hong Fu-yuan holds up pictures at a press conference in Taipei yesterday to show the damage done to the facilities of Formosa Industries Corp, of which he is president, during anti-China protests in Vietnam on Tuesday.
Photo: CNA
About 300 protesters, some carrying steel bars and others on motorcycles, stormed Formosa Industries' offices, factory and dormitory at 11:45pm on Tuesday. They stole or destroyed computer monitors and TV, as well as robbed employees of personal property, before leaving at about 4am, Hong said.
Formosa Plastics Group is one of the biggest foreign investors in Vietnam. Hong said Formosa Industries had halted its operations in Dong Nai and is assessing the damage. While major facilities were not affected, resuming operations will depend on whether the local government can offer the firm sufficient protection, he said.
"The situation was close to anarchy," Hong said. "Since the Vietnamese government is incapable of protecting investors from abroad, we believe foreign investors will have to reconsider their future investments in the country."
Asked about the company's US$500 million capacity expansion plan for textile and plastics production in the area, Hong said it will re-evaluate the parts of the initiative that have not been initiated yet, without offering details.
Formosa Industries has no plan to repatriate its 200 Taiwanese employees because it is still too dangerous, he added.
Formosa Industries posts annual revenues of NT$25 billion (US$803.08 million) on average and employs 3,000 workers, Hong said.
Tire maker Cheng Shin Rubber Industrial Co (正新輪胎), which rents land from Formosa Industries in the area, said its premises were also attacked by anti-China protesters, causing it to shut its Vietnamese division down yesterday.
Cheng Shin is still assessing the damage at its Vietnamese unit, which produces 15,000 tires for motorcycles a year and posts annual revenue of NT$3 billion a year on average, or about 3 percent of the tire maker's total revenue.
However, Advanced International Multitech Co (明安國際), which also rents land from Formosa Industries in the area to manufacture golf club heads and putters, is sending 30 of its Taiwanese staff home.
The golf equipment firm's division in Vietnam, which generates 10 percent of its products, yesterday said it would use its Chinese plants to meet client orders.
Apparel maker Eclat Textile Co (儒鴻) also shut down five factories in southern Vietnam yesterday, but kept two in the north open.
Sales of Eclat's Vietnamese division accounted for more than 50 percent of the company's revenue of NT$18.14 billion last year, vice president Roger Lo (羅仁傑) said.
Eclat did not receive any report of damage at its factories, Lo said.
As for its capacity expansion drive in Nhon Trach, Lo said it will be completed by the end of this quarter as scheduled.
Comments will be moderated. Keep comments relevant to the article. Remarks containing abusive and obscene language, personal attacks of any kind or promotion will be removed and the user banned. Final decision will be at the discretion of the Taipei Times.