China tensions top ASEAN summit talks in Myanmar
PATIENCE TESTED: China said its actions in the South China Sea were of no concern for the ASEAN talks, accusing 'one or two' nations of trying to harm the bloc's friendship
Vietnam and the Philippines yesterday pushed for stronger action to confront China's aggressive behavior in the South China Sea at the first regional summit hosted by Myanmar.
A showdown between Chinese and Vietnamese ships near the Paracel Islands (Xisha Islands, 西沙群島) — also claimed by Taiwan — has put a spotlight on long-standing and bitter maritime disputes.
Several members of the ASEAN bloc reject China's claims to much of the South China Sea, saying parts of the sea are theirs, but few are willing to risk their political and economic relationship with the regional powerhouse.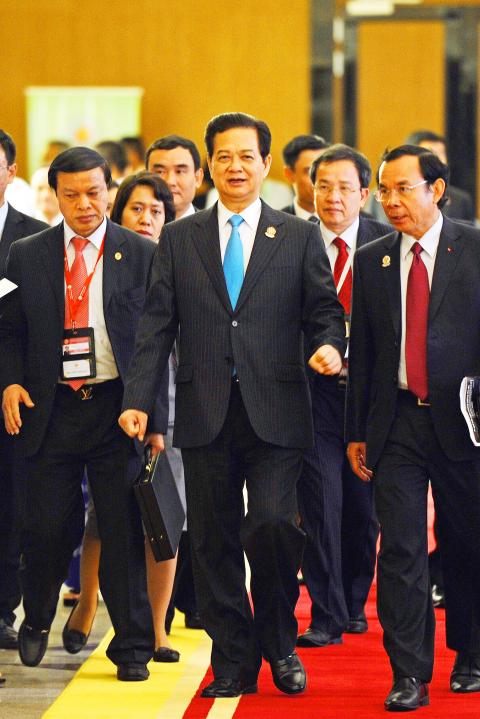 Vietnam's Prime Minister Nguyen Tan Dung, Center, walks along with members of his delegation yesterday toward the venue of the closing ceremony of the 24th ASEAN summit at the Myanmar International Convention Center in Naypyidaw.
Photo: AFP
A draft of the closing statement from the summit, obtained by The Associated Press, made no direct mention of China, and ASEAN foreign ministers who gathered on Saturday did little beyond expressing concern and calling for self-restraint.
However, Vietnam and the Philippines both made it clear they wanted more.
"China has brazenly moved its deep-water drilling rig escorted by over 80 armed and military vessels and many airplanes to the Vietnamese waters," Vietnamese Prime Minister Nguyen Tan Dzung was quoted as saying in a draft speech.
The vessels "fired high-powered water cannons and rammed straight into the Vietnamese public-service and civil ships, causing damage to many ships and injuring many people on board."
He asked that concerns about the South China Sea be included in ASEAN's final statement.
The standoff between China and Vietnam started on May 1 when China moved a deep-sea oil rig into waters close to the Paracel Islands in what most analysts believe was an especially assertive move to help cement its claims of sovereignty over the area.
China insists it is doing nothing wrong.
Chinese Ministry of Foreign Affairs spokeswoman Hua Chunying (華春瑩) yesterday said that the issue should not concern ASEAN and that Beijing was opposed to "one or two countries' attempts to use the South China Sea issue to harm the overall friendship and cooperation between China and ASEAN," Xinhua news agency reported.
ASEAN leaders also discussed tensions on the Korean Peninsula, reiterating their commitment to a region "free of nuclear weapons and all other weapons of mass destruction," according to the draft of the final statement.
They also discussed the need to effectively tackle threats such as cybercrime, human trafficking and climate change, as well as food and energy security, human rights issues and efforts to create an ASEAN economic community.
Earlier in the day, protesters staged one of Vietnam's largest ever anti-China demonstrations over the oil-rig standoff.
About 1,000 people, from war veterans to students, waved banners saying: "China. don't steal our oil" and "Silence is cowardly" — a dig at Hanoi's handling of the dispute — and sang patriotic songs in a park opposite the Chinese embassy in Hanoi.
War veteran Dang Quang Thang, 74, said: "Our patience has limits. We are here to express the will of the Vietnamese people to defend our territory at all costs. We are ready to die to protect our nation."
Hundreds of plainclothes and uniformed police set up barricades to prevent protesters approaching the Chinese embassy compound, but made no move to break up the rowdy demonstration, even though the regime normally tightly controls any public expression of discontent.
Protests also broke out in central Danang town and Ho Chi Minh City yesterday.
Comments will be moderated. Keep comments relevant to the article. Remarks containing abusive and obscene language, personal attacks of any kind or promotion will be removed and the user banned. Final decision will be at the discretion of the Taipei Times.