'White Justice Social Alliance' supports precinct chief
Calling themselves the "White Justice Social Alliance," more than 2,000 people rallied near the National Chiang Kai-shek Memorial Hall in Taipei yesterday afternoon to show support for police officers and Taipei's Zhongzheng First Precinct Chief Fang Yang-ning (方仰寧), after protesters besieged the precinct on Friday evening to demand his resignation.
People at the rally also called on the "silent majority" to stand up to show support for Taiwan's democracy and law enforcement officers.
The rally was organized in response to a siege of the precinct on Friday night, where demonstrators accused Fang of breaking his promise not to use force to remove supporters of the Alliance of Referendum for Taiwan from outside the Legislative Yuan after the Sunflower movement ended its occupation of the legislature's main chamber on Thursday.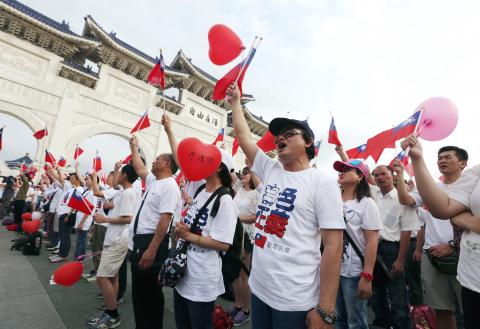 Members of the 'White Justice Social Alliance,' wearing white T-shirts and waving Republic of China flags, demonstrate outside Liberty Square in Taipei yesterday, calling on the government to do more to uphold democracy and the rule of law.
Photo: CNA
After allowing the protesters to stay outside the legislature overnight, Fang's officers physically removed several of them in the morning.
The demonstrators, demanding an apology from Fang as well as his resignation, left at about midnight after Fang apologized and said he would resign.
However, Taipei Mayor Hau Lung-bin (郝龍斌), refused to accept Fang's resignation.
He praised the police's decision not to use force on Friday evening in the face of what he said was an "illegal gathering."
Meanwhile, Fang drew plenty of other messages of support and sympathy, with a video clip and a Facebook page set up in support of the police collecting more than 250,000 "likes" as of 5pm yesterday.
The page was set up at about 9pm on Friday with the message: "Let's return to the judicial system and let the judicial system make a judgment. Police have worked hard for a long time and they are innocent."
According to the city's Research, Development and Evaluation Commission, among the 1,124 calls to the Citizen Hotline 1999 since Friday morning, 517 people said they supported Fang and disagreed with protester demands for him to resign, about 164 people urged Hau to brief the public on the case, while 13 expressed their disapproval of the police's move to forcibly disperse Alliance of Referendum for Taiwan supporters from outside the Legislative Yuan early on Friday morning.
The commission said the other 430 calls were from citizens who were simply worried about the incident.
Comments will be moderated. Keep comments relevant to the article. Remarks containing abusive and obscene language, personal attacks of any kind or promotion will be removed and the user banned. Final decision will be at the discretion of the Taipei Times.