Thirteen jailed over conscript's death
'UNACCEPTABLE': Hung Chung-chiu's family vowed to file an appeal, condemning the sentences of up to eight months in jail for the military officials as too light
The Taoyuan District Court yesterday found 13 military officials guilty of abuse of power and sentenced them to between three and eight months in prison for the death of army corporal Hung Chung-chiu (洪仲丘).
The verdict sparked an angry protest from the Hung family, who condemned the sentences as being too light.
The 24-year-old Hung collapsed from heatstroke after drill exercises on July 3 last year and died in hospital a day later, just three days before he was due to be discharged from his compulsory military service.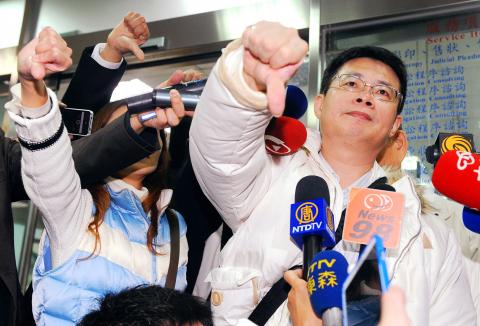 Relatives of army corporal Hung Chung-chiu, who died of heat exhaustion after excessive punishment, signal their disapproval at the Taoyuan District Court yesterday with the sentences that were handed down to those found to have been responsible.
Photo: Lo Pei-der, Taipei Times
Members of the Hung family who were in court to listen to the ruling yesterday afternoon said they would file an appeal with the Taiwan High Court.
Hung's mother and his sister, Hung Tzu-yung (洪慈庸), cried out upon hearing the decision.
"One life only costs a six-month sentence. No one was found responsible for the incident," Hung's mother later said outside the courthouse.
"We want to voice our disapproval. The government and the defense ministry is black-hearted and this is a dark day for justice. The verdict is unacceptable," Hung's uncle, Hu Shih-ho (胡世和), told reporters while giving the thumbs-down sign, as some supporters shouted "unfair justice."
The ruling found 13 of the 18 defendants guilty, while the remaining five were acquitted.
Former company commander Major Hsu Shin-cheng (徐信正) of the 542nd Brigade was sentenced to eight months in prison for abusing his authority to confine Hung Chung-chiu.
Former commander of the 542nd Brigade Major General Shen Wei-chih (沈威志), former deputy commander Colonel Ho Chiang-chung (何江忠), vice company director Captain Liu Yen-chun (劉延俊), First Sergeant Chen Yi-jen (陳以人) and Staff Sergeant Fan Tso-hsien (范佐憲) were all sentenced to six months in prison on the same charge.
Staff Sergeant Chen Yi-hsun (陳毅勳) of the 269th Brigade, who oversaw Hung Chung-chiu's punishment while in confinement, was sentenced to six months in prison. The sentenced can be commuted to a fine.
Sergeant Lo Chi-yuan (羅濟元) and three others were found guilty of charges of death caused by professional negligence and each given five months in prison. Corporal Lee Nien-tsu (李念祖) received a six-month sentence for the same charge. The five sentences for negligence can be commuted to fines.
First Lieutenant Kao Yu-lung (郭毓龍) was sentenced to three months in prison on charges of abuse of authority by confining the army conscript.
Hung Chung-chiu's death sparked major protests, as the military dragged its feet in investigating the conscript's death.
Military prosecutors indicted 18 senior officers and non-commissioned officers over the incident.
Public pressure also eventually led to an amendment to the Code of Court Martial Procedure (軍事審判法) in August last year that put civilian courts and prosecutors in charge of military criminal cases. The Hung case was subsequently transferred from the Military High Court to the Taoyuan District Court.
Additional reporting by AFP and CNA
Comments will be moderated. Keep comments relevant to the article. Remarks containing abusive and obscene language, personal attacks of any kind or promotion will be removed and the user banned. Final decision will be at the discretion of the Taipei Times.