MAC head promises no political talks on agenda
SIMPLE MEETING? MAC Minister Wang Yu-chi dismissed concerns that his trip to China would pave the way for the president to meet with his Chinese counterpart
Mainland Affairs Council (MAC) Minister Wang Yu-chi (王郁琦) announced yesterday that he is to meet with his Chinese counterpart, China's Taiwan Affairs Office (TAO) Director Zhang Zhijung (張志軍), in Nanking, China, on Feb. 11, and said political issues would not be on the agenda of their talks.
During their meeting, Chang and Wang will address cross-strait issues and seek to improve mutual understanding between the two sides, Wang said.
The officials are not scheduled to discuss cross-strait political issues or other sensitive topics such as human rights, he said.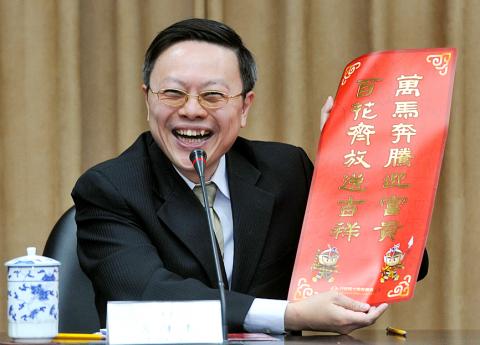 Mainland Affairs Council Minister Wang Yu-chi holds a Lunar New Year couplet as he announces in Taipei yesterday that he is to leave for China on Feb. 11 to meet his counterpart, Taiwan Affairs Office Director Zhang Zhijun.
Photo: Chien Jung-fong, Taipei Times
"The trip aims to promote regular interactions between the MAC and the TAO, and deepen mutual understanding. I think it's better to make this meeting simple," Wang told a press conference at the council's offices.
According to the Chinese-language United Daily News, Chinese authorities have imposed many restrictions on the topics that will be addressed at the meeting between Wang and Zhang.
Beijing has stipulated a number of requirements for Wang's visit, including that no talks be held on political matters, Taiwan's national title — "the Republic of China" (ROC) — and no mention is made of terms such as "freedom," "democracy," "rule of law" or "president," the United Daily News quoted an unnamed source as saying.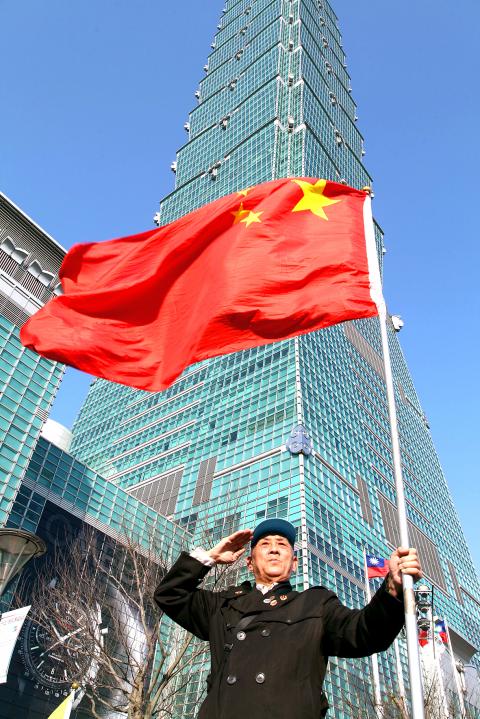 Hsiao Chin, a member of a pro-unification group, holds China's national flag outside the Taipei 101 skyscraper yesterday in Taipei, Taiwan, to promote Taiwan's unification with mainland China. Taiwan and China announced yessterday that the two sides will hold the first official talks in Nanjing, China, on Feb. 11.
Photo: EPA
Wang yesterday did not confirm whether China demanded that sensitive terms, including the ROC and the minister's official title, should not be mentioned during his meeting with Zhang, but insisted that the MAC will defend the nation's sovereignty.
"I will say what I need to say on appropriate occasions. Please wait and see… However, I will be disappointed if the TAO does not address me using my official title," he said.
The Wang-Zhang meeting will be the first official meeting in 65 years between top officials from both sides of the Strait.
Wang and Zhang first met in October last year when they sat in on a meeting between former vice president Vincent Siew (蕭萬長) and Chinese President Xi Jinping (習近平) on the sidelines of an APEC meeting in Bali, Indonesia.
Topics on the agenda for the Wang-Zhang meeting will include a communication mechanism between the two governments, the creation of representative offices on either side of the Taiwan Strait, regional economic integration and Taiwanese students' health insurance policies when studying in China.
Wang dismissed concerns that his meeting with Zhang would pave the way for President Ma Ying-jeou (馬英九) to meet with Chinese President Xi Jinping (習近平), and said the visit aimed to enhance communication between the MAC and the TAO.
Wang is scheduled to depart for China on Feb. 11 and return to Taiwan on Feb. 14.
He is to meet with Zhang in Nanjing on Feb. 11, and visit the mausoleum of Sun Yat-sen (孫逸仙), the founding father of the ROC, on Feb. 12.
He is to travel to Shanghai on Feb. 13 and meet with local think tanks before returning to Taiwan on Feb. 14.
The Democratic Progressive Party (DPP) yesterday warned Wang against touching upon "unnecessary political issues" during his upcoming trip.
"Wang should have a perfect understanding of what he should and should not raise during his visit based on three principles: protection of Taiwan's sovereignty, transparency and legislative monitoring," said Joseph Wu (吳釗燮), executive director of the DPP's Policy Research Committee.
What Wang should be discussing with Zhang includes human rights and freedom, renegotiation of the cross-strait service trade agreement, implementation of the joint fight against crime and a mutual legal assistance agreement, as well as an investment protection agreement, Wu said.
Issues with political implications and sensitivity, including the "one China" principle, a termination of hostility, a peace agreement, a military confidence-building mechanism as well as unification or a political arrangement prior to eventual unification should not be raised, Wu said.
Wu also called on the Chinese government to release all imprisoned rights activists, naming in particular Xu Zhiyong (許志永), who was sentenced to four years in prison on Sunday, before the Lunar New Year holiday if Beijing is sincere in showing the international community that it adheres to universal values.
Additional reporting by CNA
Comments will be moderated. Keep comments relevant to the article. Remarks containing abusive and obscene language, personal attacks of any kind or promotion will be removed and the user banned. Final decision will be at the discretion of the Taipei Times.