Bo Xilai slams 'insane' wife's video testimony
Fallen Chinese politician Bo Xilai (薄熙來) described his wife as "insane" yesterday after his corruption trial heard video testimony from her implicating him in bribery, in a case that is gripping the country.
Gu Kailai (谷開來), once a high-flying lawyer, but convicted last year of murdering Neil Heywood, the British businessman whose death sparked the corruption scandal that brought Bo down, looked nervous in the pre-recorded video.
She described telling her husband of a series of bribes, but Bo told the court she was mentally unstable and had compared herself to a historical Chinese assassin, telling him she felt "heroic" when killing Heywood.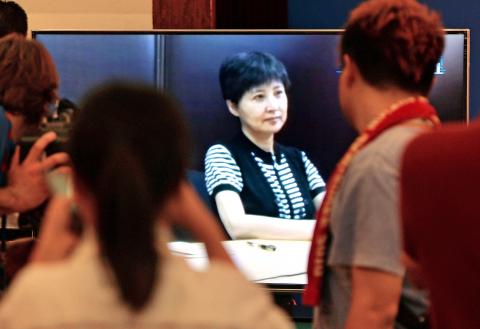 Journalists look at a broadcast of Gu Kailai, center, who is the wife of disgraced politician Bo Xilai, as she gives a recorded testimony during his trial at the Intermediate People's Court in Jinan, Shandong Province yesterday.
Photo: AFP
Gu said she feared Heywood would kidnap and kill the couple's son, Bo Guagua (薄瓜瓜), in the US.
She looked thin and pale during the questioning, recorded earlier this month. It was played in court the day after Bo pleaded ignorance to her dealings and released by the court on Chinese social media, where it had more than 1 million views in an hour.
Asked if Bo knew about airline tickets and other items provided by tycoon Xu Ming (徐明) — who prosecutors said had bribed him to the tune of 20.7 million yuan (US$3.4 million) — Gu at first said "he should have been aware."
Pressed by the questioner, she said: "I told him."
According to transcripts of yesterday's hearing released by the court in Jinan on Sina Weibo, a Chinese microblogging Web site, Bo told the court: "She is insane now and she often tells lies."
"The investigators placed enormous pressure on her to expose me when she was mentally disordered," Bo said.
Comments will be moderated. Keep comments relevant to the article. Remarks containing abusive and obscene language, personal attacks of any kind or promotion will be removed and the user banned. Final decision will be at the discretion of the Taipei Times.