Ma draws protests on New York visit
UNWELCOME PARTY: As he hosted a dinner at a hotel, dozens of demonstrators demanded the president 'stop selling out Taiwan' and 'stop human rights oppression'
Several dozen protesters gathered outside the Grand Hyatt New York on Sunday night where President Ma Ying-jeou (馬英九) was hosting a private dinner during a brief stopover in the metropolis while en route to Paraguay.
The dinner was attended by members of the Chinese Consolidated Benevolent Association, Taiwanese director Ang Lee (李安) and Chinese artist Cai Guoqiang (蔡國強).
Protest convener Lai Hong-tien (賴宏典), a dentist in the Manhattan area, said he had been unaware of Ma's visit until Friday, adding that the rally had been hastily organized by a small number of people.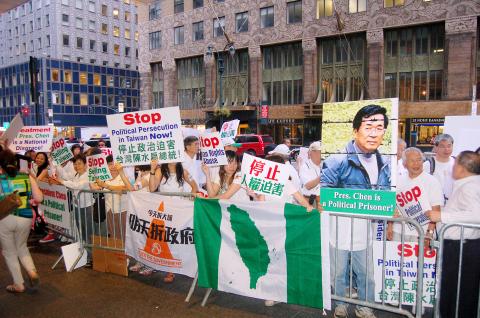 Taiwanese-Americans hold banners as they protest against President Ma Ying-jeou as he hosted a dinner at the Grand Hyatt New York on Sunday night in New York City.
Photo: Nadia Tsao, Taipei Times
"We hadn't expected to gather such a crowd," Lai said, adding that he and his fellow organizers had told police that about 15 people would attend.
The protesters held banners and signs bearing messages such as: "Stop selling out Taiwan," "Cease the oppression of human rights," as well as other more politically charged messages such as "Tear Down Dapu [Borough (大埔)] today, we'll overthrow the government tomorrow," "Halt the construction of the Longmen [Fourth] Nuclear Power Plant," "Truth in the Hung Chung-chiu (洪仲丘) incident," and a call for the release of former president Chen Shui-bian (陳水扁).
Lai said that most overseas Taiwanese are unhappy with how Ma is governing the nation, believing him to be deceitful, adding that they are especially worried about the cross-strait trade service agreement, which many see as an acceleration of Ma's attempt to "sell out Taiwan."
Despite the unexpected turnout, the New York Police Department officers monitoring the demonstration did not intervene and allowed the protest to continue.
Lai also criticized the Ma administration's policy of pursuing a diplomatic detente with China.
"I don't know what Ma's is afraid of," Lai said, referring to what he sees as Ma's avoidance of Taiwanese organizations in lieu of close dealings with China-oriented organizations in the US.
Since the Ma administration assumed power, it has never engaged "true Taiwanese," Lai said, adding that in contrast to how the Chen administration helped give Taiwan an international voice and highlight its diplomatic situation, the nation has been silenced under Ma's reign.
Lai also panned Ma's planned visit to the Chinese Consolidated Benevolent Association branch in New York's Chinatown.
"There are no Taiwanese [in the association]," and it could be said that the entire association has nothing to do with Taiwan, Lai said. "It seems that only Chinese know of Ma's itinerary."
This was yet another example of how Ma only liaises with China-centric organizations and completely failing to contact any "real Taiwanese" compatriots, Lai said.
The association was founded in 1883 and was one of the earliest Chinese groups in the US.
Ma was in New York on a transit stop en route to a five-nation diplomatic tour that will cover Paraguay and Taiwan's four allies in the Caribbean.
He was greeted by American Institute in Taiwan Chairman Raymond Burghardt and Representative to the US King Pu-tsung (金溥聰) at the John F. Kennedy International Airport.
While in New York, Ma will meet US Representative Ed Royce, chairman of the US House of Representatives' Foreign Affairs Committee, and ranking committee member Eliot Engel
He is also scheduled to visit the site of the Sept. 11, 2001, terrorist attacks in the city and New York University, where he once studied.
He will stay in the city until tomorrow, before heading to Haiti, the first stop of the tour.
From Haiti he will fly to Paraguay, Saint Kitts and Nevis, Saint Lucia, and Saint Vincent and the Grenadines.
Additional reporting by CNA
Comments will be moderated. Keep comments relevant to the article. Remarks containing abusive and obscene language, personal attacks of any kind or promotion will be removed and the user banned. Final decision will be at the discretion of the Taipei Times.