Lin left alone to defend flip-flops in Manila row
HOT SEAT: Jason Yuan and Timothy Yang did not a appear before the legislature, saying they were not Cabinet members. David Lin said he took full responsibility
National Security Council (NSC) Secretary-General Jason Yuan (袁健生) and Presidential Office Secretary-General Timothy Yang (楊進添) yesterday both absented themselves from a meeting of the legislature's Foreign Affairs and National Defense Committee to discuss the government's handling of its recent row with the Philippines, which some have described as blundering.
Their absence left Minister of Foreign Affairs David Lin (林永樂) alone to face a barrage of questions from lawmakers about the flip-flops of President Ma Ying-jeou's (馬英九) administration on how to deal with Manila over the shooting of a Taiwanese fisherman Hung Shih-cheng (洪石成) by Philippine Coast Guard personnel on May 9.
In answering lawmakers' questions, Lin repeatedly said that he was willing to take full responsibility for the government's handling of the issue.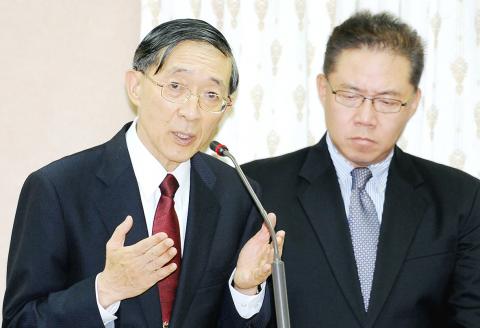 Minister of Foreign Affairs David Lin, left, accompanied by Representative to the Philippines Raymond Wang, speaks at the Foreign Affairs and National Defense Committee meeting in the Legislative Yuan yesterday.
Photo: Chu Pei-hsiung, Taipei Times
When grilled by lawmakers about Ma's role in the decisionmaking process, Lin was reticent, while reiterating his willingness to take the blame for any shortcomings.
It is regrettable that Yuan and Yang declined to attend the meeting, with the country facing a diplomatic crisis and in dire need of an effective strategy to engage with the Philippines and to handle issues related to South China Sea disputes, Democratic Progressive Party (DPP) Legislator Hsiao Bi-khim (蕭美琴) said.
The rationale given by Yuan and Yang for their absence — that they serve the president, rather than being Cabinet members responsible to the legislature and that it was in line with precedents established by the former DPP administration — were "unacceptable," said Hsiao, who chaired the meeting.
Hsiao said she was asked by Chinese Nationalist Party (KMT) lawmakers to appear at the committee when she served as a NSC adviser in 2000.
Manila presented its initial response to Taipei's four demands over the shooting via Manila Economic and Cultural Office Managing Director Antonio Basilio at a five-hour meeting with Lin on May 14, with the outcome announced at 1am on May 15, one hour after the 72-hour ultimatum set by Ma on May 11.
The result of the negotiations, which Lin said was "positive," but in need of "clarity" on some points for the government to determine its acceptability, was rejected at the NSC meeting presided over by Ma at 7am on May 15.
Ma decided at the meeting that the first wave of three sanctions against the Philippines would take effect retroactively from midnight on May 14, to be followed by eight other countermeasures enacted at 6pm on May 15 and an air and naval exercise held on May 16 in the disputed area where the incident occurred.
Hsiao asked Lin a string of questions as to whether Ma was satisfied with the negotiation's outcome in the first place and did an about-face only when he found that it received widespread criticism in the media.
Lin appeared hesitant when responding to those questions, giving answers which Hsiao said "were irrelevant to my questions."
Asked by DPP Legislator Lin Chia-lung (林佳龍) what he might do to take responsibility and whether stepping down would be an option, David Lin said he would take any kind of responsibility and would not rule out resignation.
Lin Chia-lung, an NSC member during the former DPP administration, praised David Lin for his bravery, but he said that "the largest responsibility for that lies with Ma."
"Ma was so slow to respond to the [May 9] incident. He did not call an NSC meeting to discuss the issue until May 11. Furthermore, Ma made a grave mistake when he said he would not dispatch military ships to show the nation's determination to protect fishermen at the very beginning of the incident," Lin Chia-lung said.
Yuan and Yang should shoulder larger responsibility than David Lin, because they both were experienced diplomats, but they failed to provide Ma with correct information and right advice at the critical juncture, Lin Chia-lung said.
Responding to DPP Legislator Tuan Yi-kang (段宜康), David Lin said that he had authorization from the NSC to negotiate with Basilio and had followed the guiding principles indicated by the NSC to handle the negotiation.
However, the decisions made during the negotiation "were my own," David Lin said.
Tuan demanded that David Lin step down because he had said to Basilio during the negotiations and at the following midnight press conference that the government could wait until noon on May 15 for Manila to confirm that Basilio had proper authorization to discuss the issue, which was rejected by Ma, who decided at 7am on May 15 that the negotiation's outcome was unacceptable.
KMT Legislator Chen Pi-han (陳碧涵) said she did not consider it necessary for David Lin to step down, and praised him as a professional diplomat.
Comments will be moderated. Keep comments relevant to the article. Remarks containing abusive and obscene language, personal attacks of any kind or promotion will be removed and the user banned. Final decision will be at the discretion of the Taipei Times.