Plane makes emergency landing
UNSCHEDULED STOP: The country's top aviation regulator said that the exact cause of an engine problem on an FAT flight would require further investigation
A bird-strike may have been the cause of an in-flight engine shutdown on a Far Eastern Air Transport (FAT, 遠東航空) plane yesterday, the local carrier said.
The incident occurred about 12 minutes after the aircraft took off from Kinmen at 11:50am, when the captain noticed that the engine was malfunctioning, the airline said in a statement, adding that the captain followed routine procedure by shutting off the malfunctioning turbine and returning to Kinmen Airport using the remaining engine.
According to several passenger accounts, a dull booming sound was heard in the cabin during the flight.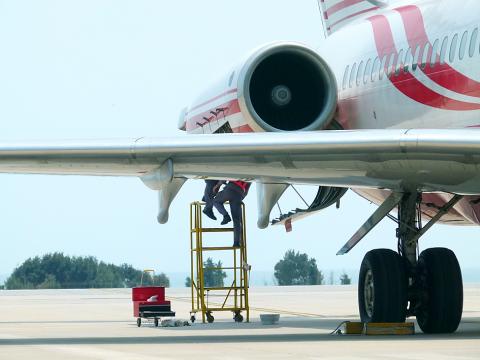 Staff inspect one of the engines of a Far Eastern Air Transport plane that had to make an emergency landing in Kinmen after a suspected bird strike yesterday.
Photo: Wu Cheng-ting, Taipei Times
All 150 passengers and crew members, including three infants, were safe after the incident forced the captain to abort the flight and return to Kinmen. After landing at 12:15pm, the airline found another flight to take the passengers to Taiwan proper, after a three-hour delay.
The plane was immediately serviced by FAT maintenance crews, who agreed with the captain's assessment that something, probably a bird, had been drawn into the engine.
The Civil Aeronautics Administration (CAA), the country's top aviation regulator, said that the exact cause of the engine shutdown would require further investigation.
It was the fourth case of an in-flight engine shutdown involving an FAT aircraft since the carrier resumed services less than two years ago.
CAA Flight Standards division chief Chang Ling-ti (張羚悌) said that if the incident was caused by a bird being drawn into the engine, it showed that birds were an increasing menace to flight safety.
According to CAA statistics, flights that were delayed or forced to land due to incidents involving birds have been on the rise in recent years, with 73 incidents in 2010, 115 in 2011 and 260 last year.
Thirty-six of the incidents caused the planes to suffer some sort of damage.
CAA Air Navigation Facilities division chief Lin Hung-hsien (林宏憲) said that there were many reasons for the increasing numbers.
More flights is one reason, Lin said, but long-term observations by the administration showed that climate change has also directly affected bird habits.
The change has caused birds to appear near airports more often, Lin said, adding that other countries across the globe were experiencing the same problem.
An increasing number of countries are trying to find a solution, Lin said.
Additional reporting by CNA
Comments will be moderated. Keep comments relevant to the article. Remarks containing abusive and obscene language, personal attacks of any kind or promotion will be removed and the user banned. Final decision will be at the discretion of the Taipei Times.