Syria death toll at 60,000; militants besiege airports
Furious combat raged around strategic airports in northern Syria yesterday, the day after the UN gave a staggering toll of 60,000 dead in the country's 21-month civil war.
Insurgents besieged troops on the perimeter of the international airport in Aleppo, the hard fought-over main city of Syria's north, and a military airbase in Idlib Province, the Syrian Observatory for Human Rights said.
Aleppo's critical civilian transportation hub has been closed since Tuesday after repeated attacks by rebels, according to an airport official, who said it would reopen as soon as the army regained control of the surrounding areas.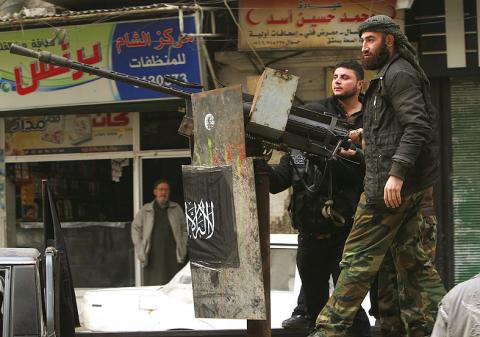 Members of the Free Syrian Army stand behind a machine gun turret as they patrol on the back of a truck in Aleppo's Bustan al-Qaser District on Wednesday.
Photo: Reuters
Rebels holding much of the area surrounding Aleppo were targeted by government shelling overnight in the city's Sakhur District and in the towns of Marea and Aazaz farther north near the Turkish border.
Meanwhile, hundreds of fighters with two hardcore Islamist rebel groups, al-Nusra Front and Ahrar al-Sham, fought soldiers around the Taftanaz airbase in Idlib, the British-based Observatory said, adding that air strikes were blasting rebel positions.
The rebels had remotely detonated a bomb at one of the airport's gates the day before, but were pushed back by the army, according to both the Observatory and a military source inside the base.
The military source said that clashes outside the base had gone on non-stop for more than 48 hours, and there had been a large number of rebel casualties.
Three rebels were killed in combat with troops around the Deir Ezzor military airport, as fighting also broke out in the nearby provincial capital in the east of the country.
Near Damascus, warplanes carried out air strikes and ground troops launched rockets on the southwest towns of Daraya and Moadamiyet al-Sham in fresh attempts to wrest back control. In the town of Mleha, just east of Damascus, bodies were being recovered from a service station hit by a regime air strike on Wednesday.
The toll from that attack was not yet known, but the Observatory said at least 12 bodies were recovered, several of them rebels. The Local Coordination Committees, a grassroots network of activists, estimated that at least 50 people were killed.
The Observatory said 219 people died on Wednesday nationwide: 115 civilians, 57 rebels and 47 soldiers.
The overall death toll of the 21-month Syrian conflict has unsettled observers.
The UN High Commissioner for Human Rights Navi Pillay on Wednesday called it "truly shocking," as she revealed a vetted UN tally nearly a third higher than that previously compiled by the Observatory.
"The number of casualties is much higher than we expected, and is truly shocking," she said in a statement.
"Given there has been no let-up in the conflict since the end of November, we can assume that more than 60,000 people have been killed by the beginning of 2013," Pillay said.
The average number of deaths recorded in recent months was five times that registered in the middle of 2011, reflecting intensifying viciousness and the regime's use of air strikes.
Pillay said in her statement that "this massive loss of life could have been avoided" if the government of Syrian President Bashar al-Assad had not chosen the "ruthless suppression" of what initially were peaceful protests.
Meanwhile, a freelance US reporter who contributed videos to Agence France-Presse (AFP) in recent months was kidnapped in Syria six weeks ago and has been missing since, his family revealed on Wednesday.
James Foley, 39, an experienced war reporter who has covered other conflicts, was seized by armed men in Idlib on Nov. 22, witnesses say.
No group has claimed responsibility for the abduction.
Foley's family, which had earlier asked media groups not to report the abduction in the hope that a low profile would assist in efforts to free him, broke their silence on Wednesday to reveal his plight.
"We want Jim to come safely home, or at least we need to speak with him to know he's okay," said his father, John Foley.
Comments will be moderated. Keep comments relevant to the article. Remarks containing abusive and obscene language, personal attacks of any kind or promotion will be removed and the user banned. Final decision will be at the discretion of the Taipei Times.