Eight Afghans killed in Koran burning protests
At least eight Afghans were shot dead and dozens wounded yesterday in clashes between police and demonstrators protesting over the burning of the Koran at a US-run military base, officials said.
In Kabul and in provinces to the east, north and south of the capital, furious Afghans took to the streets screaming "Death to America," throwing rocks, and setting fire to shops and vehicles as gunshots rang out. In Jalalabad, students set fire to an effigy of US President Barack Obama and the US embassy in Kabul went into lockdown.
In Kabul, hundreds of people poured onto the Jalalabad road, throwing stones at US military base Camp Phoenix, where troops guarding the base fired into the air and black smoke rose from burning tires, a photographer said.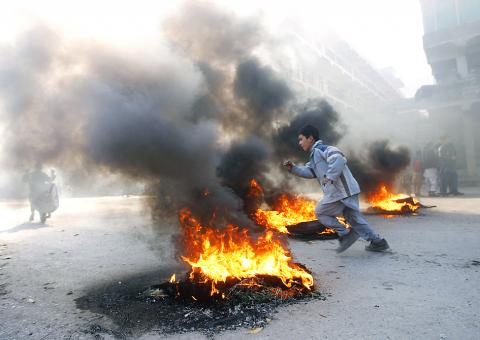 An Afghan boy runs next to fire during a protest in Jalalabad yesterday. Gunfire wounded at least 26 people during fresh protests in several cities across Afghanistan over the burning of copies of the Koran, Islam`s holy book, at NATO`s main base in Afghanistan.
Photo: Reuters
Afghanistan is a deeply religious country where slights against Islam have frequently provoked protests.
The US commander in Afghanistan, General John Allen, apologized and ordered an investigation into the incident, admitting that religious materials, including Korans, "were inadvertently taken to an incineration facility."
Allen and US Deputy Secretary of Defense Ashton Carter called on Afghan President Hamid Karzai yesterday to apologize again for the incident at Bagram airbase, north of Kabul, the president's office said.
Karzai asked Allen to cooperate fully with a government investigation into the burning and told him to "make sure that such incidents do not happen again in future," a statement said.
Karzai also urged the US military to speed up a transfer to Afghan control of the controversial US-controlled prison at Bagram.
"The sooner you do the transfer of the prison, the fewer problems and unfortunate incidents you will have," Karzai told Carter.
Two US officials, who spoke on condition of anonymity, said the military removed Korans from the prison because inmates were suspected of using the holy book to pass messages to each other.
Comments will be moderated. Keep comments relevant to the article. Remarks containing abusive and obscene language, personal attacks of any kind or promotion will be removed and the user banned. Final decision will be at the discretion of the Taipei Times.