2012 ELECTIONS: AIT distances itself from Douglas Paal
NOT AFFILIATED: The AIT said it was inappropriate for Director William Stanton to meet in an official capacity with Paal following his remarks about today's election
The American Institute in Taiwan (AIT) yesterday distanced itself from one of its former directors, Douglas Paal, after Paal praised the policies of President Ma Ying-jeou (馬英九) and his Chinese Nationalist Party (KMT) in a TV interview on Thursday, while also criticizing Democratic Progressive Party presidential candidate Tsai Ing-wen (蔡英文).
AIT Director William Stanton called off a meeting with Douglas Paal yesterday morning, a source said, which was later confirmed by the Prospect Foundation, an institution affiliated with the government that invited Paal to visit Taiwan
The foundation said it was told by the AIT that it had to cancel the meeting because it was inappropriate for Stanton, in an official US capacity, to meet with Paal following his remarks about the election.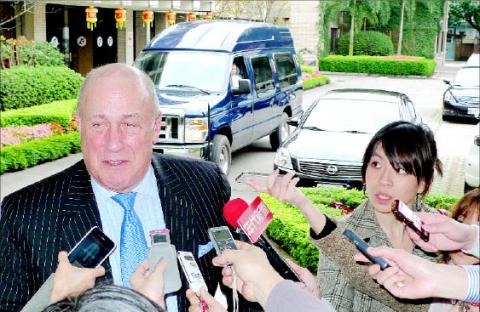 Former American Institute in Taiwan director Douglas Paal, left, responds to reporters' questions outside the Ministry of Economic Affairs in Taipei yesterday.
Photo: Lin Yi-chang, Taipei Times
A planned visit by Paal to Tsai's campaign headquarters at 4:30pm was also canceled by the DPP.
Approached by reporters on his way to a meeting with Minister of Economic Affairs Shih Yen-shiang (施顏祥), Paal was asked about his remarks, which have been strongly criticized by the DPP and others.
"No interference in Taiwan's election, none whatsoever," he said as he refused to comment further on the candidates' cross-strait policies.
"I think it's all been reported. Thanks," he added.
During an interview with CtiTV on Thursday, Paal said in response to a question about his views on the best policy choices for Taiwan in the coming four years that Taiwan "will suffer domestically" if the current relationship between Taiwan and China is damaged.
The Economic Cooperation Framework Agreement (ECFA) has barely begun to show results and Taiwan is on a very positive path in its current relationship with China from a security, diplomatic, economic and social development point of view, he said in the interview.
"It's not ideal, it has many shortcomings, of course. But, if you look at the big picture: Europe is heading toward a serious economic slowdown, the US has three years or four years from a real economic recovery. Markets are not going to be available," Paal said in the interview. "If Taiwan gets into the business of arguing and damaging its economic relationships with the mainland [China] or other trading partners, Taiwan is going to suffer domestically. The economic benefits for the young people will be disappearing."
In the CtiTV interview, Paal praised the "creative formulation" of the so-called "1992 consensus" — the basis of Ma's China policies — saying it created ambiguities for Taiwan and China to negotiate issues pragmatically, and he disapproved of the contention by the DPP and other critics that the formula undermines Taiwan's sovereignty and would lead to unification.
"People in my circle that include a broad range of scholars and officials do not read it that way. This is one of the necessary compromises that states have to make with other states," he said on Thursday. "It is beneficial for American interests. That's first and foremost in our minds. We also think it's beneficial for Taiwan's relationship with China and for China's with Taiwan."
Paal also criticized the "Taiwan consensus" proposed by Tsai, saying the idea was "a way of saying [that Tsai has] no desire to reach cross-strait agreements."
Paal added that the US and China did not accept this.
"Disruption of that [1992 consensus] could have unforeseen effects on the mainland [China] succession process, on tensions in the region and on our own election if high tension in the Taiwan Strait re-emerges during the course of the American election" scheduled for November, Paal said.
In response to Paal's comments, AIT spokesperson Christopher Kavanagh said any statements Paal made were his "personal views" because he is "a private citizen" and no longer works for the AIT.
"Paal does not work for the US government and his statements do not represent US government policy," Kavanagh said. "The US will be very happy to work with whoever the people of Taiwan elect as president."
Paal was initially scheduled to visit the DPP yesterday afternoon, but the party called off the meeting after Paal's comments and rescheduled it to today at 3:30pm. Tsai does not plan to meet Paal during his visit and Hsiao Bi-khim (蕭美琴), director of international affairs at Tsai's campaign office, will act as Tsai's representative.
Paal is also scheduled to visit Ma's campaign office at 10:30am today. He met People First Party Vice Chairman Chang Chao-hsiung (張昭雄) on Thursday.
Responding to Paal's comments, Hsiao told a press conference that Paal's remarks were his own views and not the position of the US government.
It was not the first time Paal tried to collaborate with the KMT before a major election in Taiwan to influence voters, as Paal also made pro-KMT comments prior to the 2008 election, Hsiao said.
"Paal's behavior was disrespectful to the Taiwanese public's freedom of choice," she said, adding that the KMT's attempt to "play the endorsement card" with a former foreign officials was "immoral, somewhat childish and against standard diplomatic practice."
The DPP had been in close contact with US officials in Washington and Taipei after Paal's comments, she said, and the US reiterated that it would work with any candidate elected and that it respects Taiwan's democracy.
Comments will be moderated. Keep comments relevant to the article. Remarks containing abusive and obscene language, personal attacks of any kind or promotion will be removed and the user banned. Final decision will be at the discretion of the Taipei Times.